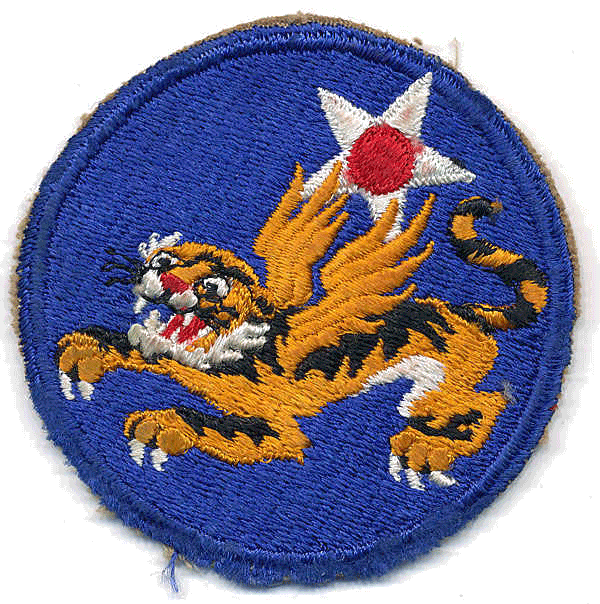 The Flying Tigers
The 'Flying Tigers' of Burma / China and their relevance to Weihsien C.A.C.
by David G. Beard
In July 1937, the now legendary American Claire Lee Chennault, a retired Army Air Corps instructor, was invited to China as air advisor to Generalissimo Jiang Kai Shek. China's airforce had been decimated after four years of the Sino-Japanese war and needed rebuilding. Chennault not only founded a flying school in Kunming, S.W.China, to train Chinese pilots, but also pioneered clusters of strategically located airfields and an efficient air-raid warning system that covered Free China.



Because Japan during 1939 and 1940 carried out a sustained effort to break the back of Chinese resistance by sustained bombing of major population centres in Free China, Generalissimo Jiang Kai Shek sent Chennault to America in the autumn of 1940 to seek American planes and pilots to end the Japanese bombing. This American Volunteer Group proposal was opposed by the military and navy, but thanks to powerful advocates in the White House and Cabinet, Presidential approval was gained for a cloak-and-dagger volunteer operation: a secret fighter pilot unit recruited from the ranks of the US Army, Navy and Marine Corps and sent to the British R.A.F.Keydan airfield at Toungoo,170 miles inland from Rangoon, Burma for intensive training in flying the P 40 Tomahawk fighter plane. The A.V.G.s mission: to defend the Burma Rd, China's vital lifeline to Indian Ocean ports.

By late 1941, the newly promoted Brigadier General Chennault had whipped a highly trained gung-ho group together into the 1st, 2nd and 3rd Pursuit Squadrons. The exploits of the A.V.G.was to become legendary. Pitted against a vastly greater number of Japanese planes, they significantly halted Japan's invasion of S.W.China. and became widely known, both by the U.S. Press and by the Republic of China as 'feihudui' - The 'Flying Tigers'. When the A.V.G. was disbanded on 4 July, 1942 after only seven months in combat, it had officially destroyed 297 Japanese planes - although Japanese records show the figure as approximately 115.



After disbandment, five A.V.G. pilots and 28 ground personnel joined the Army Air Corps and stayed on in China, where they formed the cadre of the 23 Fighter Group. Major General Chennault assumed command of the China Air Task Force (CATF) and the 23rd Fighter Group, which absorbed the aircraft and a few of the pilots of the A.V.G., as well as assuming the Flying Tigers' nom-de-plume. Their primary mission was to defend the southern and eastern approaches to the Hump and the transport terminals in Free China. On 10 March 1943, the 14th Air Force was activated under the command of Chennault, replacing the CATF. Chennault remained in command of the 14th Air Force until the end of July 1945, formally retiring in October, 1945.

Kunming was the base of the 14th Air Force operations. And it was in Kunming during mid 1945 that the seven 'Duck Mission' personnel who were to liberate C.A.C. Weihsien received their training. Thanks to the original 'Flying Tigers' sterling efforts over seven months in 1941/1942 and the subsequent conduct of effective fighter and bomber operations by the 14th Air Force 'Flying Tigers' under Chennault across a vast front of China during 1943-1945, the stage was much more effectively set for the release of C.A.C. Weihsien on 17 August 1945.

Keeping Chongqing free meant that our two escapees Tipton and Hummel were able to maintain contact with Free China HQ, providing us with news of the war in the Pacific Theatre. Such contact also facilitated the remarkable delivery to Weihsien Internment Camp of four crates of much needed medicines - airlifted from W.China to the guerrilla forces, then taken to the Swiss Consul in Qingdao, who used sublime subterfuge to get all four crates intact to Weihsien Camp's Hospital.('Chinese Escapade' 1949, L. Tipton, pps 178-182); ('Shantung Compound' 1966, L.Gilkie, pps 60-82)

All ex-Weihsien internees have good reason to be grateful to Major General Chennault, to the original 'Flying Tigers' and to those who subsequently inherited the 'Flying Tiger' logo and fought so effectively to keep Free China FREE.

Let us salute their memory.
David G. Beard.
WORLD WAR II —
FIGHTING THE WAR IN ASIA
2. Before the Flying Tigers



– Although it has been 60 years, the Flying Tigers remain well-known in China as American heroes who helped turn the tide of war against the Japanese. Virtually unknown are the men who preceded them and who for 10 years trained Chinese fighter pilots and fought with them. This is their little-told story.

From the Air Force Magazine
8. General Claire Chennault,



Leader of the Flying Tigers – To Chinese of a certain age, Claire Chennault hardly needs introduction. But today, more than 60 years after he and his small band of daring young pilots shot down hundreds of enemy planes over Chinese airspace in a matter of months, new generations may have only a hazy idea, at best, of who this unorthodox American was and the matchless contribution he made to the Chinese war effort.

From World War II chronicles.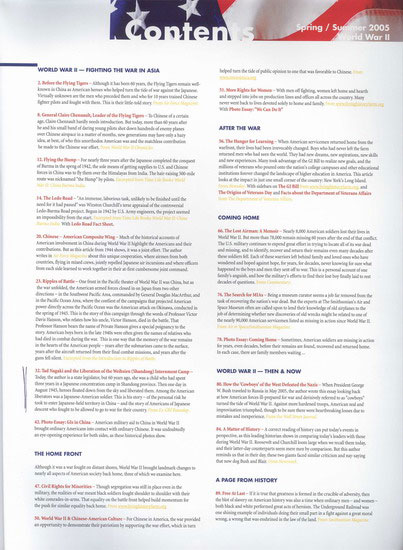 12. Flying the Hump



– For nearly three years after the Japanese completed the conquest of Burma in the spring of 1942, the sole means of getting supplies to U.S. and Chinese forces in China was to fly them over the Himalayas from India. The hair-raising 500-mile route was nicknamed "the Hump" by pilots.

Exerpted from Time Life Books World War II . China Burma India.
14. The Ledo Road



– "An immense, laborious task, unlikely to be finished until the need for it had passed" was Winston Churchill's terse appraisal of the controversial Ledo-Burma Road project. Begun in 1942 by U.S. Army engineers, the project seemed an impossibility from the start.

Exerpted from Time Life Books World War II . China Burma India. With Ledo Road Fact Sheet.
20. Chinese – American Composite Wing



– Much of the historical accounts of American involvement in China during World War II highlight the Americans and their contributions. But as this article from 1944 shows, it was a joint effort. The author writes in Air Force Magazine about this unique cooperation, where airmen from both countries, flying in mixed crews, jointly repelled Japanese air incursions and where officers from each side learned to work together in their at-first cumbersome joint command.
23. Ripples of Battle



– One front in the Pacific theatre of World War II was China, but as the war unfolded, the American armed forces closed in on Japan from two other directions – in the Southwest Pacific Area, commanded by General Douglas MacArthur, and in the Pacific Ocean Area, where the costliest of the campaigns that projected American power directly across the Pacific Ocean was the American attack on Okinawa, conducted in the spring of 1945. This is the story of this campaign through the words of Professor Victor Davis Hanson, who relates how his uncle, Victor Hanson, died in the battle. That Professor Hanson bears the name of Private Hanson gives a special poignancy to the story. American boys born in the late 1940s were often given the names of relatives who had died in combat during the war. This is one way that the memory of the war remains in the hearts of the American people – years after the submarines came to the surface, years after the aircraft returned from their final combat missions, and years after the guns fell silent.

Exerpted from the Introduction to Ripples of Battle.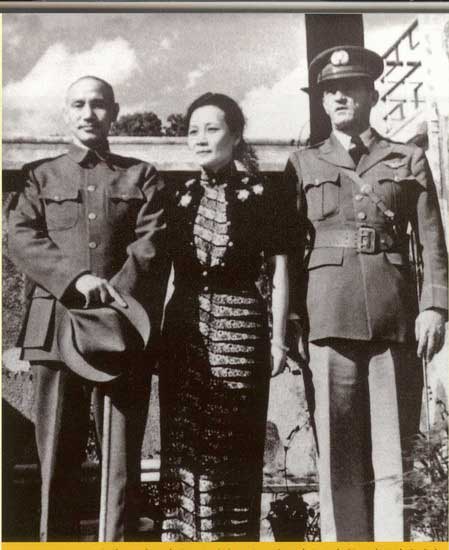 32. Tad Nagaki and the Liberation of the Weihsien (Shandong)



Internment Camp – Today, the author is a state legislator, but 60 years ago, she was a child who had spent three years in a Japanese concentration camp in Shandong province. Then one day in August 1945, heroes floated down from the sky and liberated them. Among the American liberators was a Japanese-American soldier. This is his story – of the personal risk he took to enter Japanese-held territory in China – and the story of Americans of Japanese descent who fought to be allowed to go to war for their country.

From ex-CBI Roundup.
42. Photo Essay: GIs in China



– American military aid to China in World War II brought ordinary Americans into contact with ordinary Chinese. It was undoubtedly an eye-opening experience for both sides, as these historical photos show.
THE HOME FRONT
Although it was a war fought on distant shores, World War II brought landmark changes to nearly all aspects of American society back home, three of which we examine here.
47. Civil Rights for Minorities



– Though segregation was still in place even in the military, the realities of war meant black soldiers fought shoulder to shoulder with their white comrades-in-arms. That equality on the battle front helped build momentum for the push for similar equality back home.

From www.livinghistoryfarm.org.
50. World War II & Chinese-American Culture



– For Chinese in America, the war provided an opportunity to demonstrate their patriotism by supporting the war effort, which in turn helped turn the tide of public opinion to one that was favorable to Chinese.

From www.museumca.org
51. More Rights for Women



– With men off fighting, women left home and hearth and stepped into jobs on production lines and offices all across the country. Many never went back to lives devoted solely to home and family. From www.livinghistoryfarm.org
With Photo Essay: "We Can Do It"
AFTER THE WAR
56. The Hunger for Learning

– When American servicemen returned home from the warfront, their lives had been irrevocably changed. Boys who had never left the farm returned men who had seen the world. They had new dreams, new aspirations, new skills and new experiences. Many took advantage of the GI Bill to realize new goals, and the millions of veterans who poured onto the nation's college campuses and other educational institutions forever changed the landscape of higher education in America. This article looks at the impact in just one small corner of the country: New York's Long Island.
From Newsday
With sidebars on The GI Bill From www.livinghistoryfarm.org
and The Origins of Veterans Day and Facts about the Department of Veterans Affairs
COMING HOME
66. The Lost Airman: A Memoir



– Nearly 8,000 American soldiers lost their lives in World War II. But more than 78,000 remain missing 60 years after the end of that conflict. The U.S. military continues to expend great effort in trying to locate all of its war dead and missing, and to identify, recover and return their remains even many decades after these soldiers fell. Each of these warriors left behind family and loved ones who have wondered and hoped against hope, for years, for decades, never knowing for sure what happened to the boys and men they sent off to war. This is a personal account of one family's anguish, and how the military's efforts to find their lost boy finally laid to rest decades of questions.

From commentary
76. The Search for MIAs



– Being a museum curator seems a job far removed from the task of recovering the nation's war dead. But the experts at The Smithsonian's Air and Space Museum often are called upon to lend their knowledge of old airplanes to the job of determining whether new discoveries of old wrecks might be related to one of the nearly 90,000 American servicemen listed as missing in action since World War II.

From Air & Space - Smithsonian Magazine
78. Photo Essay: Coming Home



– Sometimes, American soldiers are missing in action for years, even decades, before their remains are found, recovered and returned home. In each case, there are family members waiting ...
WORLD WAR II — THEN & NOW
80. How the 'Cowboys' of the West Defeated the Nazis



– When President George W. Bush travelled to Russia in May 2005, the author wrote this essay looking back at how American forces ill-prepared for war and derisively referred to as "cowboys" turned the tide of World War II. Against more hardened troops, American zeal and improvisation triumphed, though to be sure there were heartbreaking losses due to mistakes and inexperience.

From Wall street Journal.
84. A Matter of History



– A correct reading of history can put today's events in perspective, as this leading historian shows in comparing today's leaders with those during World War II. Roosevelt and Churchill loom large when we recall them today, and their latter-day counterparts seem mere men by comparison. But this author reminds us that in their day, these two giants faced similar criticism and nay-saying that now dog Bush and Blair.

From Newsweek.
A PAGE FROM HISTORY
89. Free At Last



– If it is true that greatness is formed in the crucible of adversity, then the blot of slavery on American history was also a time when ordinary men – and women – both black and white performed great acts of heroism. The Underground Railroad was one shining example of individuals doing their small part in a fight against a great moral wrong, a wrong that was enshrined in the law of the land.

From Smithsonian Magazine.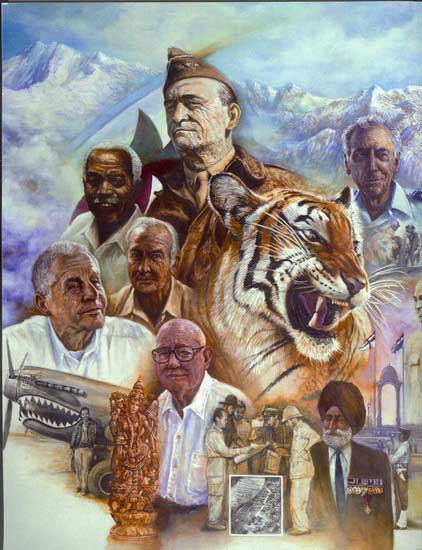 #