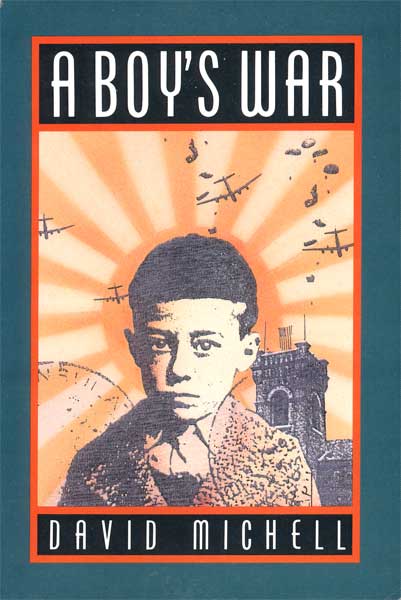 50th Anniversary of V-J Day
Thank You, America
From: Dr. David J. Michell,
Toronto, Ontario M5M 1W8
Canada
On August 17, 1945, now 50 years ago, 7 brave GI's parachuted into Weihsien Concentration Camp in North East China and freed us after 3 years of captivity as POWs of Japan. We were all civilians of the allied nations and in bad shape. I was a boy of 11 and over 100 of us children had been separated from our parents because of the war and internment for 6 or 7 years. We heard about the atomic bomb and that the war had just ended.

This weekend I am going to Detroit to say thank you in person to America for my gratitude for the courage and sacrifice that brought about our rescue and release when hope for our deliverance had all but failed. I have only met one of the GI heroes of my boyhood. He is Lt. James Walton Moore, now in Dallas.

All seven GI's signed their names on a piece of one of the parachutes. It is a long shot I know but I wonder if you can somehow help me say thank you to these seven GI's this August 17 which marks exactly 50 years from the day when they parachuted down outside our camp like saviours from another world. Here are their names and a copy of the signed parachute used by one of them.

- Major Stanley Staiger, Klamath Falls, OR (US Army)
- Lt. James Walton Moore, Dallas Tx (US Navy)
- Sgt. Ray N. Hanchulak, Wilkes Barre, PA. (US Army)
- Lt. James J. Hannon, San Francisco, CA (US Army)
- Cpl. Peter Orlick, Woodside, NY (US Army)
- Sgt. Tad Nagaki, Minatre, Nabraska (US Army)
- Captain Wilis S. Georgia (US Army)
- Edward Wang (Interpreter)

Our camp had 1400 prisoners- American, British and other Allied nations, including about 500 children. One whom we remember so very well was Eric Liddell, the Olympic Gold medallist of Chariots of Fire fame. He was still a great runner but died in our camp at the age of 43. I wrote about him and our camp in my book, A Boy's War.

I am truly grateful to America and I want to say thank you. Some of my boyhood friends of 50 years ago still suffer from their boyhood experiences. Eric Liddell himself never even saw one of his children. His other children he did not see him for the last 5 years of his life. As we celebrate the 50th anniversary of VJDay, I hope the children of war and their heroes will not be forgotten.


David Michell August 11, 1995