CHINA BORN
by Mrs. Gladys McMullan-Murray
FOREWORD
by Miss. Ida Chu
Brought up in the same city, Chefoo or Yentai, where Mrs. Gladys McMullan Murray, the author, was born, I have had the privilege of being taught in her English class. She started to call me Ida, the name I have been using since. My name is pronounced as Yi De in Chinese.

The house where she was born was later rented to the Chinese Maritime Customs where my father was an assistant to the Commissioner. During my junior school years, my family lived in that hillside house surrounded by a large garden. Afterwards, I left the city for higher study in Shanghai.

The works of her parents were widely benefited and praised by the city people. Mrs. Murray was a very joyful, kind person by nature to whom the students responded with love and respect.

"CHINA BORN", her memoir, has been translated into Chinese by my husband and will be published together with the English copy to be distributed free to the benefit of readers of either language.

Ida Chu

Soudersburg, Pa.


CHAPTER 10 ... PRISONERS OF WAR
When our youngest was only three years old, war was declared. The Japanese were already in occupation of Chefoo. Sentries marched in the streets and stood at street corners demanding identity cards and certificates to prove that we had been vaccinated and inoculated.

I forgot my certificate one day while going through the Chinese city. A Japanese soldier compelled me to line up with a lot of very dirty coolies to be inoculated even though I offered to go home to get my certificate. I was surprised not to have any ill effects from the communal needle.

Our poor cook was constantly forgetting his certificate when going to market and was repeatedly jabbed.

One day a group of soldiers came into our house, stamping their heavy boots, and demanding to see my husband. They arrested him, only allowing him to take a small suitcase of clothes. Other men who had been in key positions were already waiting outside in a truck. They were driven away, without a word of explanation, or told of their destination. The children were frightened and my heart sank, but I tried to cheer them up by saying that Dad had just gone for a ride. All sorts of rumours were rife - some said our men had been shot - it was really terrible. Thank God it was only a rumour.

Later we heard that the men were imprisoned in an old hotel after being driven all round the Chinese city for the Chinese to see the foreign prisoners. I took the children every day past the hotel where Dad was looking out of the window so he could see that we were all safe and well. We couldn't speak to him, and dared not stand still, out only walked slowly past.

While my husband was away, the Japanese kept coming in to see if there was any incriminating evidence. They removed the telephone. All our private papers were burned and all valuables taken. What was left was removed by anyone who happened to want it - after we were interned.

One day, the Japanese came for another searching session. They were rough to start but little Sheila brought in a plate of biscuits and passed it round to our unwelcome visitors. The three-year-old child with the long blonde hair and sweet ways must have touched their hearts for they began to behave better, and even strummed with one finger on our piano, "God Save The King". They still insisted on going upstairs to look in the bedrooms.

I was short of money at the time and, as thieves were coming in to steal, I had hidden some notes in Sheila's soft cloth dog. You can imagine how I felt when the soldiers began to play with the toys. Sheila was a bit worried about her playthings but I said, "They are only looking at them. " When they picked up the dog, I felt quite faint but they threw it back in the cupboard again.

Our two eldest children were cut off from us as they were both working in British firms in Shanghai. Tina was a stenographer and Peter was learning the shipping business. We were most anxious to hear news of them but were not allowed letters. I tried to send a telegram but was refused. However, we did receive a telegram - delivered by mistake - which asked permission for Tina to marry a Norwegian. As my husband was still in the hotel, I asked the officer in charge if I might speak to him. After much coming and going to the Japanese consulate, I was permitted to shout from below the veranda to my husband who was standing with one of the guards. I told him about Tina's request and he thought we should try to find out more about the young man she wished to marry. However, we were never able to get in touch with her so they decided to get married. We lost touch with them until eighteen months later when we heard that they were very happily married and had a lovely baby son. Our son-in-law was a Bachelor of Science - a most capable chap - well able to take care of Tina.

Our older brother, Bobs, was considered by the Japanese as a special due to his position as head of his firm, and also because he was at that time the Grand Master of the Masons. "These things seemed to make him more suspect. He was a very courageous man and, because of his influence, he was able to save his friends. He was imprisoned and we hoped that we would soon see him again, but a message came suddenly to us to say that he had died... a young man of just forty and in excellent health... we could not believe it.

After three long months of waiting and wondering how our men were faring, they were suddenly sent back to us, all except my dear brother.



However, we were not left in peace for long for, one day without any warning, the gendarme came to order us to prepare to go to camp. We were, of course, very thankful that Dad was back with us. We were given an hour to get some clothes together - only one suitcase each. My husband was very depressed as it distressed him to be forced to leave my brother behind. He had been through a very gruelling time and could hardly bear to talk about it. As we left, our house was left open to anyone who cared to enter. In fact, looters were encouraged by our captors.

As we went through the Chinese city, the bystanders watched us with pity, saying in Chinese "O, they will eat much bitterness now. They have nothing but bits and pieces. "




When we reached our camp which was about two miles away, we were assigned to our rooms. Seventeen people - male, female and children - slept in ours. There were no beds so we slept on the floor which took getting used to but we learned that one can get used to almost anything. The rooms were dirty and all the plumbing was out of order. However, our boys and men were later allowed to fetch mattresses from our homes. Douglas and Jim went with some guards and pushed the mattresses on a cart back to the camp. It was winter by this time and deep snow on the ground. When all the mattresses were spread on the floor, there was no room to walk between and we had to sleep in close proximity to each other. We would turn out the light to try to get some sleep but often lay awake thinking apprehensively of the future.

The first night in the camp, an old lady noticed our room was dark so she stepped quietly inside the door and began to disrobe. She had wanted to avoid undressing in the room where she belonged as the lights were still on but she did not realize that the light from the hall was shining through the fan-light and that she was in full view of us all. One soon got used to this sort of thing.

We had paid our cook some money to buy food for our dog Jerry as we hoped soon to be home - but what a hope! Jerry was a mongrel but such a friendly little chap. He was more my special dog and had made up his mind to find us. Even though our cook tied him up, Jerry got away and, coming all the way to the camp, he rushed past the guards at the camp gates and found us in our quarters. The sentries drove him away but he returned again and again. One night he managed to get inside and got through the window of our room. He jumped over all the sleeping forms until he came to me, then jumped on me, licking my face. It was heart-breaking as we couldn't stand his being so home-sick for us and, as we heard that we were being moved up country, we asked an American doctor to kindly put him to sleep. It was a sad day but the best we could do.

One of our treats was to have a hot bath in a small tin tub in the cellar. We put a large can on the stove to heat the water and took turns to have a bath. One evening a teenaged girl went down to have her bath but there was no light in the cellar - only a candle. She stepped into the tub with joyful anticipation. On splashing the water over herself, she noticed that it. was very greasy and there seemed to be strands of sticky material adhering to her. Out she jumped to bring the candle a little closer-only to find that she had been bathing in our cabbage soup!

One day I was helping in the kitchen and sent one of the children to call my husband to come to the meal. The child ran back in distress, saying, "Dad is lying on the floor and can't move. " I hurried to him and found that he couldn't speak and one leg and an arm seemed useless. One of our friends helped us to put him to bed and called a lady doctor to come to see him. She examined him and said, "He's very ill indeed, you'll have to keep him quite still. There's nothing we can do". She was a Missionary doctor and said we must pray for him. I could hardly bear this burden on top of all our other trials. It would not have been nearly so bad if we had been at home. I was so much afraid that the Japanese would take him away and that I would not see him again. Someone in the camp possessed a camp bed and kindly gave it to us for my husband. I fed him and nursed him as well as I could under the awkward circumstances and we all prayed and prayed for his recovery. I believed that the Lord would spare him to us.

People were very kind to me and offered me cups of tea. They thought that Douglas would die but we continued to pray and, at last, he began to improve. One day he was able to speak again and gradually the use came back to his arm and leg, though his arm was stiff for a long time. Again we had proved the goodness of God.

We remained in this camp for a year, then suddenly we were told to be ready to go up country.

We were literally packed into a small steamer. It was a miserable voyage... the hold and every available space packed with people... our youngest slept in my arms... it was unbearably stuffy in the hold... and the smells on the ship were nauseating as the plumbing had gone wrong. The Japanese guards occupied the only cabins on the ship. We were glad to get out on deck in the daytime to breathe a little fresh air. No food was provided but we managed to bring some bread and tea from the camp. Those were really two dreadful days.

When we arrived in Tsingtao, we were herded onto the train... just as overcrowded and most uncomfortable. After the train journey, we were ordered to climb onto trucks and bumped along a dusty road to our new camp in Wei-Hsien. As we came near, we saw hundreds of internees looking over the wall at us. It was very hot and they were wearing wooden clogs and shorts - many bare torsos in evidence. As the great gates closed behind us and we saw the sentries at intervals along the walls - and that the walls were electrified - we realized with a fresh shock that we were indeed among enemies. Our hearts sank and we were fearful as we didn't know what was in store for us.

Our great source of comfort was that God had promised to save those who call upon Him. A wonderful verse came to me as I walked towards our little hut - "The angel of the Lord encampeth round about them that fear Him and delivereth them" Psalm 34. 7. These words came with great force and I felt sure that, though the enemy surrounded us, God was even nearer and would be with us all through our trouble.

Our family had two tiny rooms. There was no furniture - just a shelf on the wall. We had our mattresses to sleep on. The walls were full of bugs and each morning we took all our bedding and clothes out in the yard for a sunning, doing all we could to get rid of the horrid creatures.

Everyone was given identification badges which we had to wear at all times. Every day we lined up for roll call for which we had to learn to count in Japanese. Our youngest child had been given a large doll with which she was delighted and carried it everywhere. She asked me to make a badge for the doll so, to please her, I stitched one on the doll. At the next roll call, dolly came too. The guards began to count the rows of people but seemed a little confused about the number. After counting several times, they realized that the extra child was just a doll!

We nicknamed one of the guards "Bu-shingdy" which, in Chinese, is "Not allowed". He would yell out in a very menacing voice, "Bu-shing-dy" whenever he passed us!

Our children collected bricks and made a little cut door oven - not that we had much too cook on it. We were able, occasionally, to buy a little peanut oil but had to wait for hours in line. It was worth it, though, for we kept our ration of bread and fried it in the oil which made quite a nourishing meal. One of the internees owned a machine for grinding peanuts into butter and which she loaned out throughout the camp. We were able to have it at rare times to grind the few peanuts we were able to buy and - what a treat it was - to have something to spread on our bread!

A kind Anglican gave some of his ration of peanuts to our children. Our second son repaid him by taking over the old gentleman's unpleasant job of emptying the night soil. Jim would tie a handkerchief over his mouth and swing along with the smelly buckets as cheerful as a cricket. Times of adversity seem to bring out the best in most of us. There was a happy bond of sympathy between the old and the young.

We enjoyed the Salvation Army band and were allowed to hold Sunday services which were the highlight of the week. Our community hymn-singing was a great joy too.

As we ate strictly bread day after day, the children longed for jam or butter. One day they said "Can't we ask God for some jam?" So right there and then, we knelt down and prayed and, no sooner had our simple petition ended, than an old lady who had been lucky enough to receive a food parcel, came in and said, "I've a little jam left in the bottom of this tin. It's a bit sharp for me - would you like it?" It's the most delicious jam we had ever tasted.

Our older son was in a camp near Shanghai. He had been very ill with typhus just before the war and we were most anxious to get him into our camp with us so that we could look after him. I began to pray earnestly that Peter would be sent to us. I told people what I was doing but everyone said, "It's quite impossible. He's in South China and all in this camp are from the North." However, I continued to pray.

An official from another camp came to visit ours and I asked permission to see him. As he was going to Peter's camp, I begged him to take a petition to the Commandant there to ask if Peter could come as his father still ill and needed his eldest son. The man took the letter and said, "You may have done your son harm". I was really frightened of what I might have done to Peter and begged for the letter, but he wouldn't give it to me. For days I was in despair and prayed that the man would lose the letter, unless it was God's will.

After a month of agonizing waiting, we were looking over the wall when, down the road, we saw a truck full of a change of guards. As the truck came closer, we noticed that a young Englishman was with them. Just imagine the excitement! Peter was quite in the dark as to where they were bringing him having just been ordered to pack up and come. I wanted; to rush out to meet him but Peter signalled me not to make any move I think he was afraid that they might change their minds and take him back.

Peter's coming did wonders for his Father and for us all. A kind neighbour, who had been saving a pot of jam for months, gave it to us so that we might celebrate Peter's coming. We were given extra bread by other friends and a real tuck-in.

James, our second son, had been with us all along and had cheered us with his happy carefree attitude and his jokes about his cooking. He was one of the camp cooks and concocted cabbage soup, unsweetened corn-flour pudding (which they called "Wei-Hsein Delight"). They wrote up a menu every day on which everything was called by fancy names - Bread Porridge was just bread soaked in water... Stew was made of mule's meat, or other inferior meat, and a few vegetables. One thing which was fairly plentiful was eggplant. It's surprising what unappetising dishes one can eat if really hungry. The so-called coffee was served from a bucket, as was the tea. We had no milk or sugar. All our water had to be fetched from a pump.

In the camp there was a hospital - with an operating theatre - manned by our own doctors and nurses. A special dining room was for the sick. So many had stomach troubles.

There were communal showers for which we were thankful especially when the temperature rose to one hundred degrees.

In the winter we were given small iron stoves but we had to stand for a long time to get a bucket of coal dust. This we made into coal balls by mixing it, two parts of coal dust to one part of earth, which we put out in the yard to dry. Unfortunately, they were sometimes stolen.

The internees ran a white elephant shop where one could sometimes get necessities by exchange. I took my best dress to change for a tin of sweet condensed milk. We all shared it and really enjoyed the treat. Never was a tin scraped more clean. Our little one said, "Don't throw it away. It might be filled up again like the widow's oil when her vessels were empty. "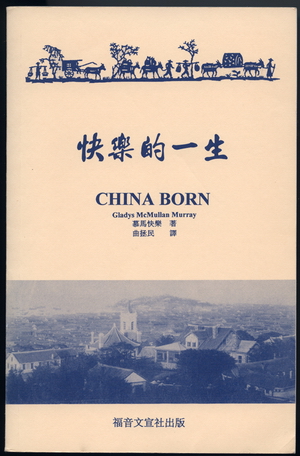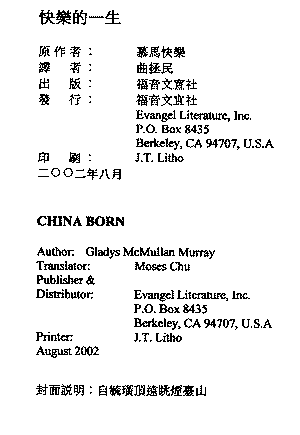 BIRDS IN THE FOWLER'S NET
The Story of a Japanese
Internment Camp
By J. W. G. Bruce -- 1985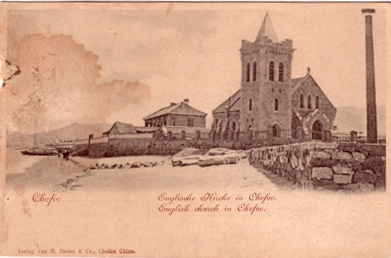 ... old post card representing the Anglican Protestant Church in Chefoo and next to it: the Astor House Hotel where many "Enemy Aliens" were imprisonned by the Japanese. It is most probable that Mr. McMullan was incarcerated there too! ... so was Pa Bruce, the headmaster of the Chefoo School.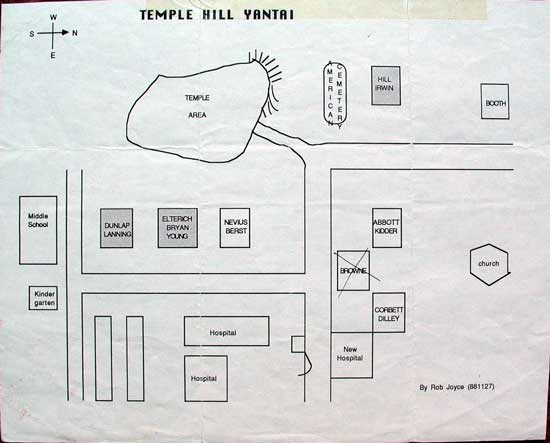 INTERNMENT OF AMERICANS AND ALLIED NATIONALS AT CHEFOO , CHINA , IN TEMPLE HILL COMPOUNDS.

REPRODUCED AT THE NATIONAL ARCHIVES
REQUIRED
By Department's Special Division Memorandum of August 26, 1943
Released: January 4, 1944
From Samuel Sobokin, American Consul November 9, 1943
On board GRIPSHOLM, Date of mailing: December 1, 1943.
Chefoo , China
Temple Hill Internment Camp
[click on the map, please]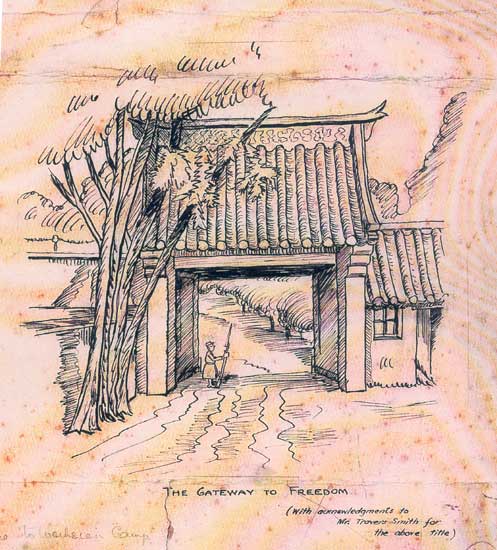 REPRODUCED AT THE NATIONAL ARCHIVES Declassified: February 23, 1996.
By State Department's Special Division Memorandum of August 26, 1943.
INTERNMENT OF AMERICAN AND ALLIED NATIONALS At Weihsien, Shantung Province, CHINA From Samuel Sobokin, American Consul Kobe, Japan, November 11, 1943
Date of mailing, December 1, 1943
On board M/S GRIPSHOLM

REPORT ON WEIHSIEN CIVIL ASSEMBLY CENTER [click here]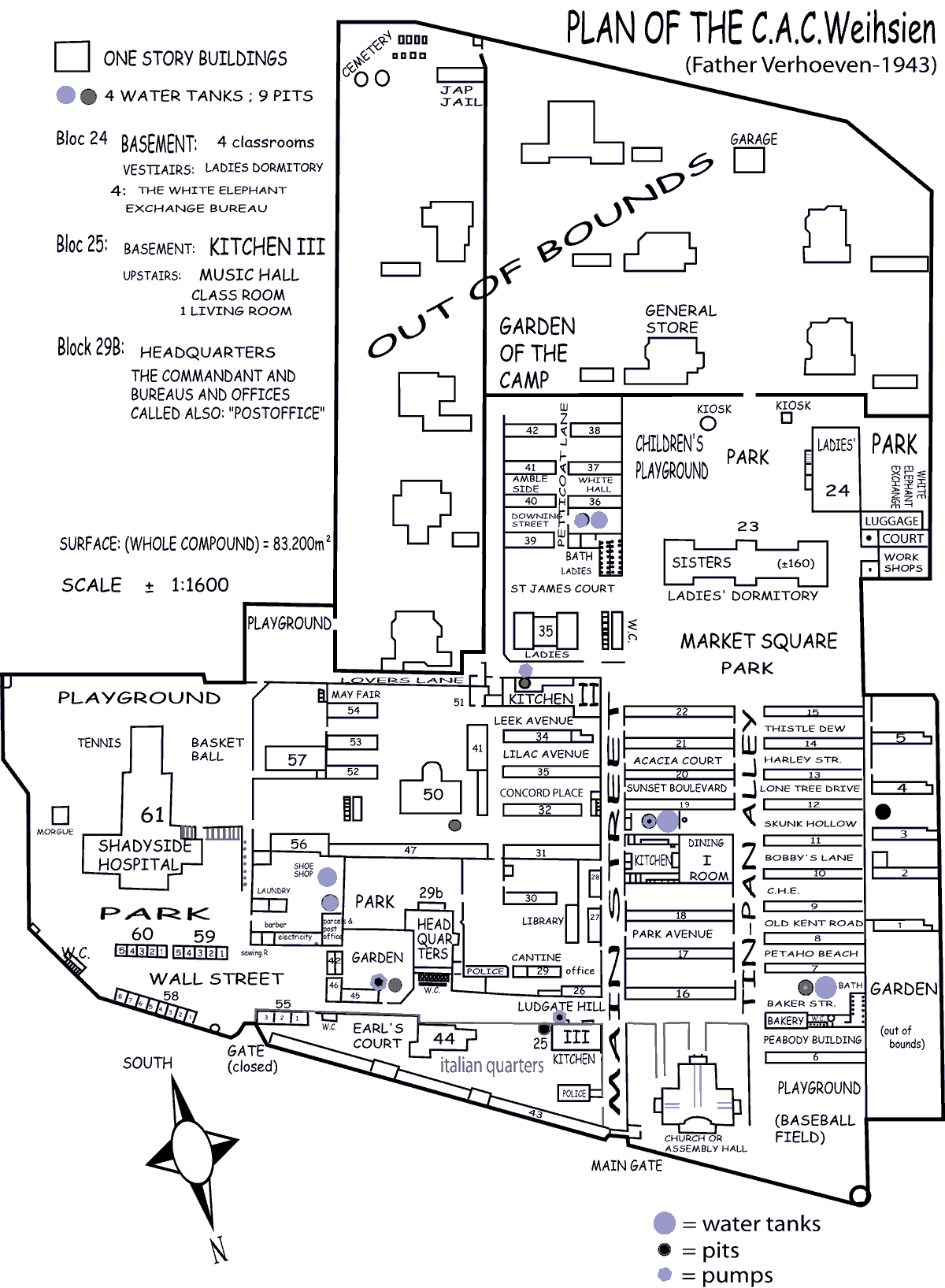 REPRODUCED AT THE NATIONAL ARCHIVES
[Copy: VTS:SS ]
Compared:
[740.00115A Pacific War/1112])
No. 7500
THE FOREIGN SERVICE OF THE UNITED STATES OF AMERICA
Via Air Mail Pouch
AMERICAN LEGATION
Bern, March 9, 1944.
Subject:
American Interests - China
Transmission camp report No. 2
Weihsien camp.
The American Minister at Bern has the honor to refer to the Legation's airmail dispatch No. 5690 of July 23, 1943, with which there was transmitted a copy of camp report No. 1 concerning a visit made in July 1943 to the civilian assembly center at Weihsien, China, by Mr. Fontanel, the Swiss Consul General at Shanghai.
In accordance with the Department's telegraphic instruction No. 720 of March 20, 1942, the Legation now desires to enclose a copy of a general report submitted by Mr. V. E. Egger, the Swiss representative for Shantung, regarding this camp.
An examination of the enclosed report reveals that it is based on information furnished to the Swiss, representative by the internees themselves, and his own observation over a considerable period of time. This document, when compared with routine camp reports submitted by Swiss delegates in Europe, does not appear to be strictly speaking a camp report, but it is nevertheless being considered as camp report No. 2 regarding the camp at Weihsien for future reference.
This report was received by the Legation under cover of a note dated March 6, 1944, from the Swiss Foreign Office and a copy is being made available to Mr. Francis B. James, the Special Representative of the American Red Cross at Geneva.
[click here]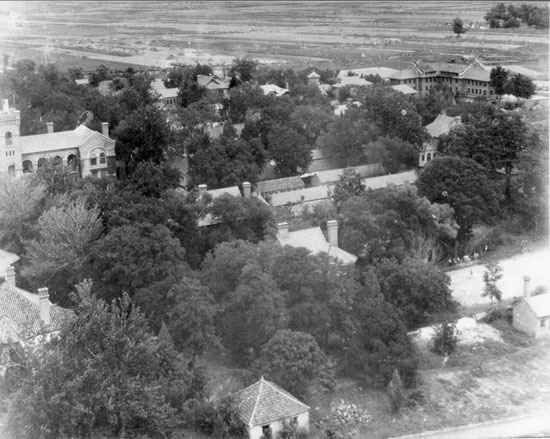 Upper right, is the Hospital building. To the left, is half of Bolock-23. The Jail-house is the small construction at the bottom-middle of the picture. The 9 by 12 foot rooms are in the long constructions hidden in between the trees. The nice and spacious villas were all: the "Jap Quarters" ... out of bounds for us ... of course. This photo was taken from a B-29 bomber in late August 1945