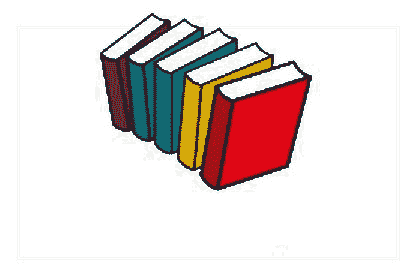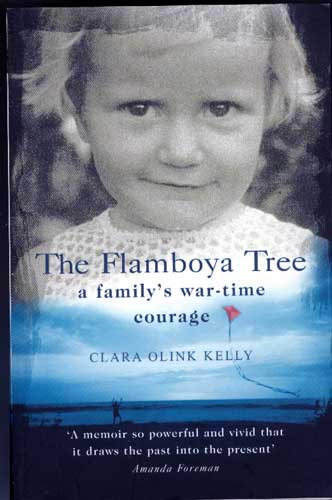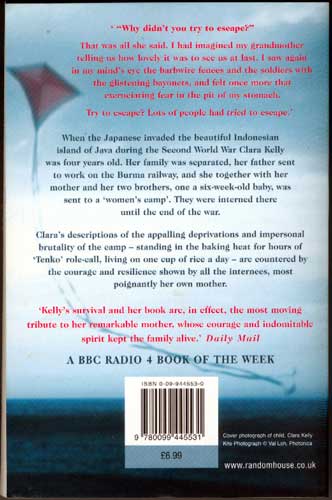 Back Cover : ...
"Why didn't you try to escape?"

That was all she said. I had imagined my grandmother telling us how lovely it was to see us at last. I saw again in my mind's eye the barbwire fences and the soldiers with the glistening bayonets, and felt once more that excruciating fear in the pit of my stomach.

Try to escape? Lots of people had tried to escape.

When the Japanese invaded the beautiful Indonesian island of Java during the Second World War Clara Kelly was four years old. Her family was separated, her father sent to work on the Burma railway, and she together with her mother and her two brothers, one a six-week old baby, was sent to a 'women's camp'. They were interned there until the end of the war.

Clara's descriptions of the appalling deprivations and impersonal brutality of the camp ― standing in the baking heat for hours of 'Tenko' role-call, living on one cup of rice a day ― are countered by the courage and resilience shown by all the internees, most poignantly her own mother.

"Kelly's survival and her book are, in effect, the most moving tribute to her remarkable mother, whose courage and indomitable spirit kept the family alive." Daily Mail.

A BBC RADIO 4 BOOK OF THE WEEK
www.randomhouse.co.uk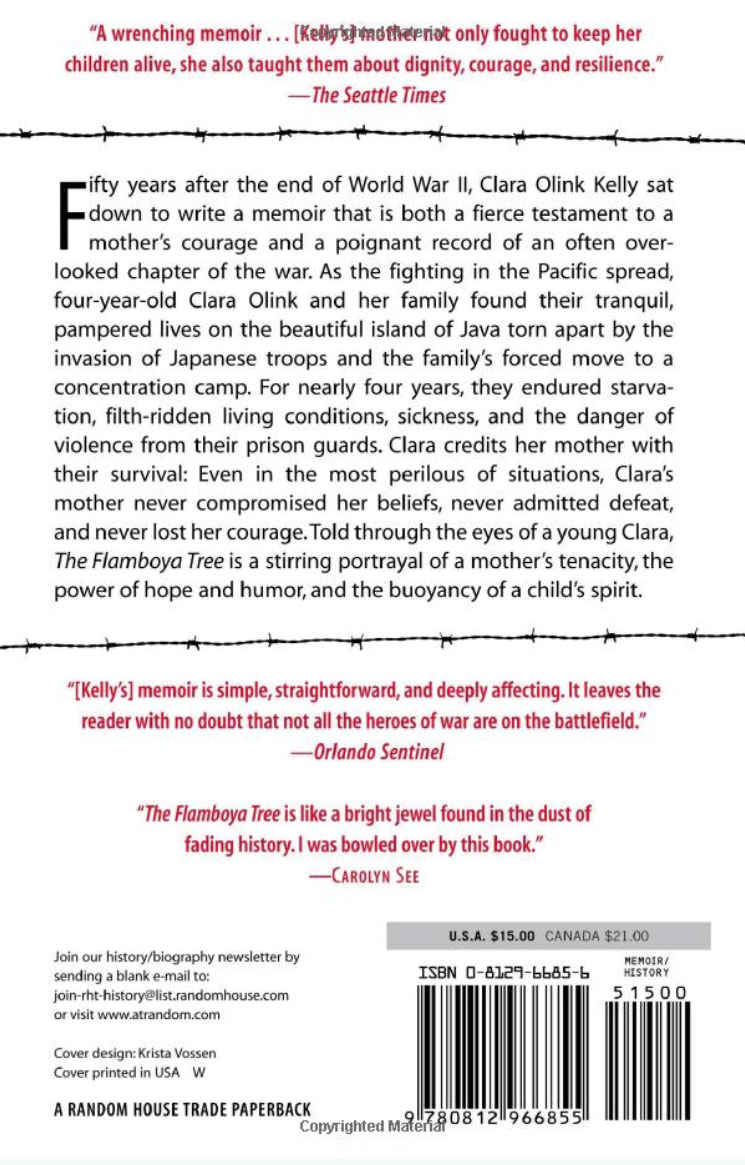 The Flamboya Tree
Clara Olink Kelly now lives in Bellingham, Washington with her husband. She spends much of her time with her children and grand­children.
Flamboya Tree is her first book.

'Incredibly moving ... The courage of the whole family, particularly of Clara's mother, shines through'
Cathy Kelly, Daily Mail

`Fascinating'
People Magazine

'A wrenching memoir ... These stories clearly demonstrate that terrible atrocities are committed - justified even - in the name of war'
Seattle Times

'A moving, immediate account of a relatively unknown wartime drama ... Unforgettable'
Booklist

`Remarkable ... The Flamboya Tree charts a family journey that is awesome and heartbreaking, but which remains a story of hope'
The Herald Sun

'An affecting account of wartime deprivation ... Well written'
Publishers Weekly

'The Flamboya Tree is a touching story of how a mother's love saved a family of three defenseless children trapped in a brutal Japanese death camp. As Clara Kelly honours her mother's memory we are reminded that not all the heroes of World War II faced the bullets of the battle­field'
James Bradley

`Nothing illustrates wartime suffering and sacrifices more poignantly than a child's voice. Clara Kelly has done a wonderful job capturing the depravity of the Java prison camps and the courage of interned mothers trying to keep their young children alive and humane. The Flamboya Tree is a fascinating story that will leave the reader informed about a missing piece of the World War II experience, and in awe of one family's survival'
Elizabeth Norman

`The Flamboya Tree is like a bright jewel found in the dust of fading history. I was bowled over by this book'
Caroyln See

`Simply told, deeply felt, Kelly's The Flamboya Tree shows us that adver­sity can transform our lives into courageous, life-affirming works of art'
Gwyn Hyman Rubio

`Sometimes the history of war hides its best stories, its fine, quiet stories ... The Flamboya Tree is such a story, with some kinship to Nicholas Gage's Eleni, and, in the same extraordinary way, about the triumph of love and compassion and decency'
Alan Furst

`Sure-footed and big-hearted, Kelly's narrative offers testimony to the sustaining power of dignity and courage in the face of impossible circum­stances'
Beth Kephart, author of "A Slant of Sun"

"The Flamboya Tree" is a fascinating story that will leave the reader informed about a missing piece of the World War II experience, and in awe of one family's survival."
— Elizabeth M. Norman, author of "We Band of Angels": The Untold Story of American Nurses Trapped on Bataan by the Japanese

"It is a well-known fact that war, any war, is senseless and degrading. When innocent people are brought into that war because they happen to be in the wrong place at the wrong time, it becomes incomprehensible. Java, 1942, was such a place and time, and we were those innocent people."

Fifty years after the end of World War II, Clara Olink Kelly sat down to write a memoir that is both a fierce and enduring testament to a mother's courage and a poignant record of an often overlooked chapter of the war.

As the fighting in the Pacific spread, four-year-old Clara Olink and her family found their tranquil, pampered lives on the beautiful island of Java torn apart by the invasion of Japanese troops. Clara's father was taken away, forced to work on the Burma railroad. For Clara, her mother, and her two brothers, the younger one only six weeks old, an insistent knock on the door ended all hope of escaping internment in a concentration camp. For nearly four years, they endured starvation, filth-ridden living conditions, sickness, and the danger of violence from their prison guards. Clara credits her mother with their survival: Even in the most perilous of situations, Clara's mother never compromised her beliefs, never admitted defeat, and never lost her courage. Her resilience sustained her three children through their frightening years in the camp.

Told through the eyes of a young Clara, who was eight at the end of her family's ordeal, ...
"The Flamboya Tree" portrays her mother's tenacity, the power of hope and humor, and the buoyancy of a child's spirit. A painting of a flamboya tree—a treasured possession of the family's former life—miraculously survived the surprise searches by the often brutal Japanese soldiers and every last-minute flight. Just as her mother carried this painting through the years of imprisonment and the life that followed, so Clara carries her mother's unvanquished spirit through all of her experiences and into the reader's heart.

#