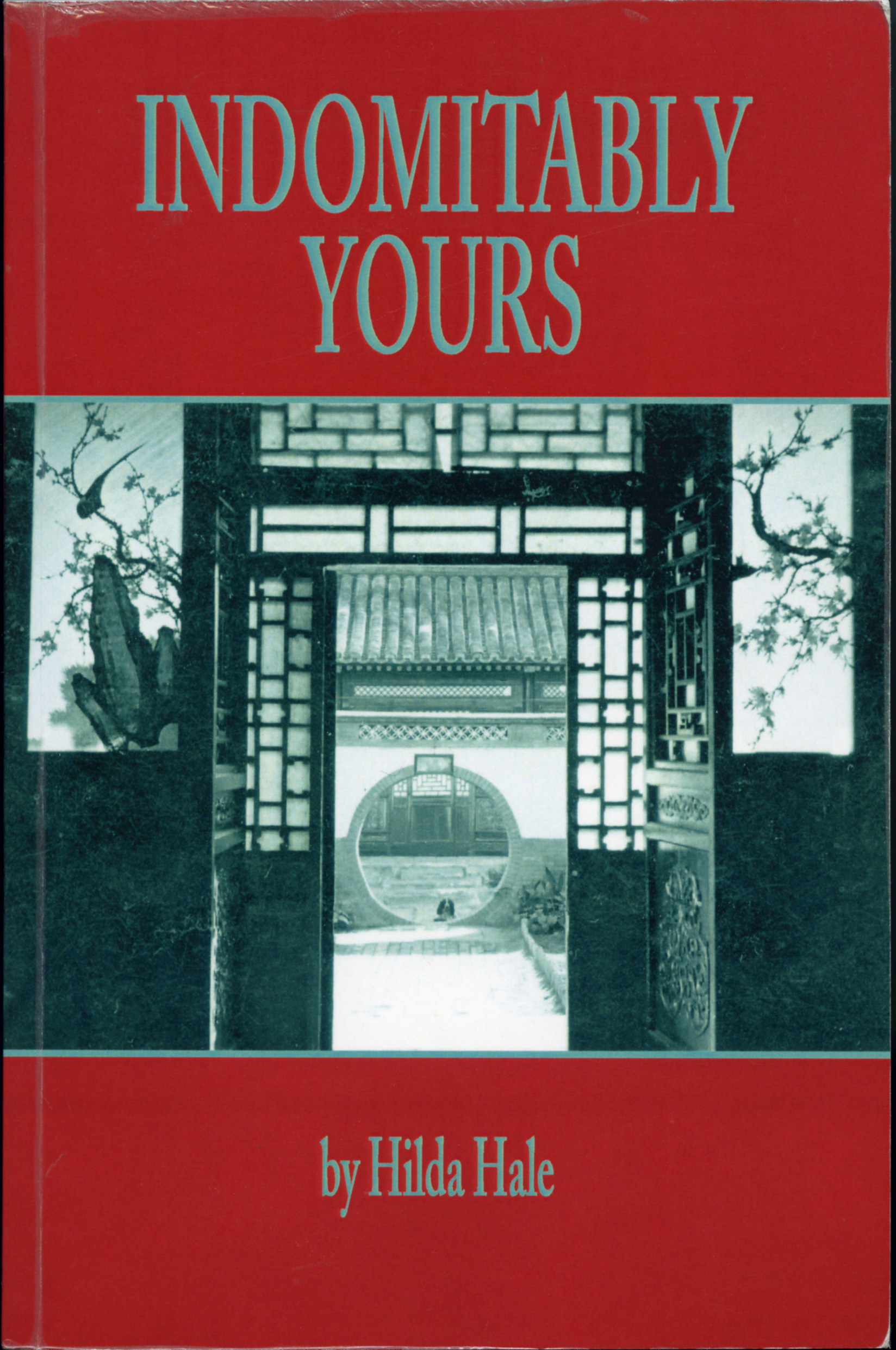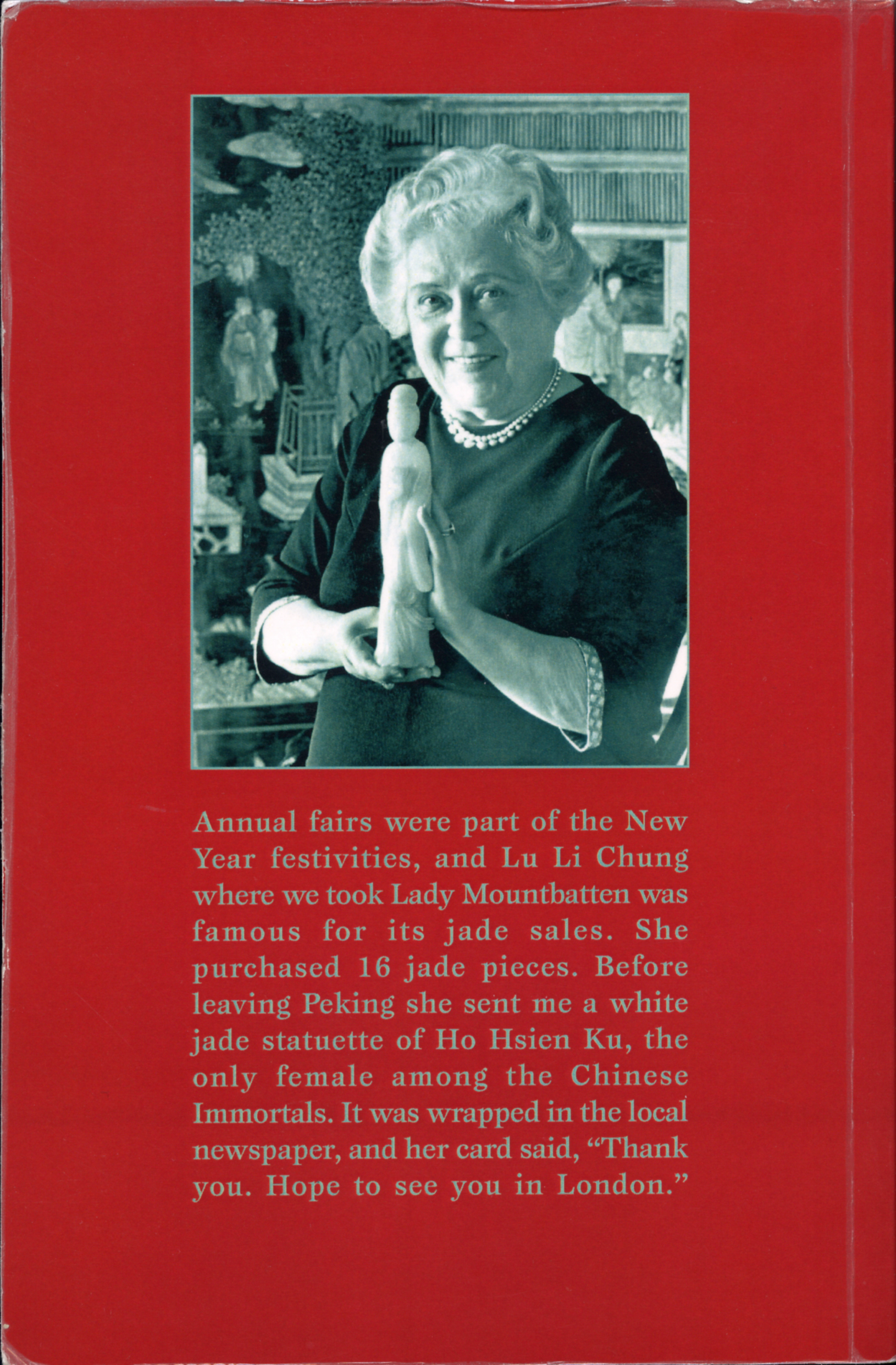 Annual fairs were part of the New Year festivities, and Lu Li Chung where we took Lady Mountbatten was famous for its jade sales. She purchased 16 jade pieces. Before leaving Peking she sent me a white jade statuette of Ho Hsien Ku, the only female among the Chinese Immortals. It was wrapped in the local newspaper, and her card said, "Thank you. Hope to see you in London."'

Copyright © by Hilda L. Hale
All rights reserved.
No part of this book may be reproduced in any form without the permission of the author.

ISBN # 0-9683139-0-6
PREFACE
Indomitably Yours is mainly the story of my adventurous life in the Far East Japan (briefly), China, Hong Kong, and India. For many years friends badgered me to write my story, but I procrastinated and put it off. It was not until my eighty-seventh birthday, following a pace-maker operation in 1994, that I decided it was now or never.

I thank those persistent friends and to two in particular I am indebted—the late Peter Fairbarns, who contributed six hundred hours of computer typing, and my gentle, talented and charming editor, Janet Craig. Over the nearly two years she and I have worked together a genuine friendship has developed.

The title of the book comes from the fact that Jim Gibson, columnist for the Victoria Times-Colonist, invariably referred to me as the "Indomitable Hilda Hale" in his column "This Town." Thus "indomitable" became my nickname in my senior years. When I was a schoolgirl in England it was "Soapy." But you will have to read on for the reason for that!
Hilda Hale
CONTENTS
Preface 4
Foreword 5
Introduction
The Gypsy's Prophecy 8

Chapter One
Earliest Recollections: South Africa 10

Chapter Two
The Beauty of Yorkshire and the Perils of War 17

Chapter Three
Starting a Career in Bristol 30

Chapter Four
Montreal: Surviving the Depression 45

Chapter Five
A Wedding in Japan 63

Chapter Six
I Am Introduced to China 72

Chapter Seven
Peking: Foreign Society and the Countryside 85

Chapter Eight
A Year of Change 106

Chapter Nine
Home Leave and Japanese Occupation, 1936-1940 130





Chapter Ten
From House Arrest to Internment 156

Chapter Eleven
Weihsien Camp 175

Chapter Twelve
Combating Despair 199

Chapter Thirteen
Rescued At Last 219

Chapter Fourteen
Winding Up Affairs in Peking 246

Chapter Fifteen
Hong Kong: Safe Harbour 259

Chapter Sixteen
At Home in Hong Kong 277

Chapter Seventeen
Farewell to the Far East 297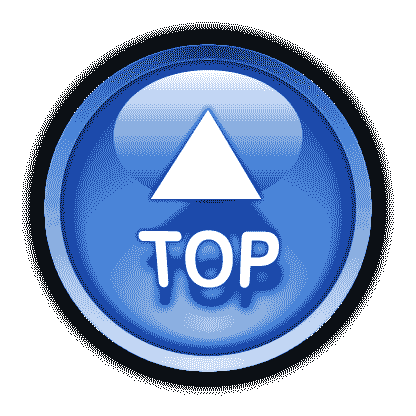 Obituary

HALE, Hilda Lousia Born February 28, 1907 in Yorkshire England, died peacefully July 29, 2007 in Qualicum Beach BC. Hilda is predeceased by her husband, Bertram Charles Hale, and her elder daughter, Hilary Joan Miller.

She is survived by her younger daughter, Beryl Cendrienne Elliott; sons-in-law William Miller and George Elliott; grandchildren Jane Reynolds, (Dave), and Dave Miller, (Maya); as well as great grandchildren Andy Reynolds, Kate Reynolds and Declan Miller.

Hilda lived a full life, having lived in England, South Africa, Japan, China, Hong Kong and India before settling on Newport Ave. in Oak Bay.

She will be remembered by all for her indomitable spirit, her strength in leadership, her desire to be independent, and her multiple talents. She was an accomplished artist, a teacher, a self-published author of four memoirs; one of which has now been translated into Chinese, and was a founding member of the Asian Art Society of Greater Victoria, of which she was President for over 20 years.

She was also the recipient of multiple awards, the most notable being the Governor General's award, the Golden Jubilee Commemorative Medal and the Victoria Women of Distinction award. She also established a bursary program in Asian Arts through the University of Victoria.

Hilda enjoyed attending the races and polo matches, as well as outings to the Union Club. Her winning spirit was demonstrated in all her favourite activities, especially at the mahjong table.

She derived much joy from her busy social schedule, as well as from achieving her goals and plans. Many thanks to all whose assistance enabled her to remain living in her home for as long as possible, as well as to the second floor nursing staff at Qualicum Manor, whose excellent care allowed her to spend her last days in a dignified and peaceful way.

No funeral will be held by request.

Donations to the Asian Art Society or a charity of your choice may be made in her name. A full life, well lived. We will miss you Gam. 395941


Published in The Times Colonist from Aug. 3 to Aug. 4, 2007
iPhone