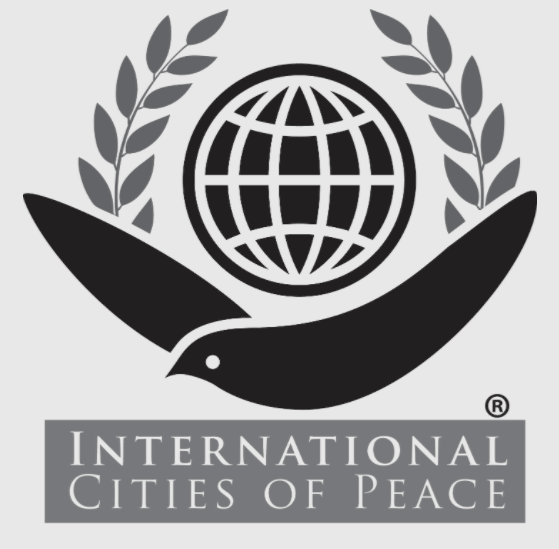 TWO ANNOUNCEMENTS FOR CHINA!
ON FEBRUARY 3, 2021, TWO CITIES IN THE PEOPLE'S REPUBLIC OF CHINA WILL ESTABLISH THEIR COMMUNITIES AS THE 307TH AND 308TH INTERNATIONAL CITIES OF PEACE.
Zhijiang in Hunan Province and Weifang in Shandong Province will join Nanjing in Jiangsu Province, which was established as the 169th International City of Peace in 2017.
Definition :
1.
Cities where a particular war has been successfully concluded (through a peace treaty). Such cities may or may not officially declare themselves, then or later, a City of Peace. It may be the city itself, or its inhabitants, who initiate this process.
Examples: Münster, Osnabrück, Dayton.

2.
Cities which are the seats of international institutions which are significant for the maintenance of world peace. The city authorities in The Hague have declared their city a City of Peace, justice etc., but in Geneva (so far) such a denomination has been bestowed by citizens groups (only).
Examples: Geneva, Den Haag.

3.
Cities where important peace prizes are awarded/places where peace is being celebrated and honoured. Oslo is really the main city in this category, with a long and famous tradition because of the Nobel peace prize.
Examples: Oslo, Frankfurt/M., Aachen.

4.
Cities which, having been destroyed in war, have used this tragedy to dedicate themselves to work for peace, with the focus being on either
– warning against nuclear weapons
– reconciliation
– tolerance and multicultural living

This is the largest category of peace cities.
Examples: Hiroshima, Nagasaki, Osaka, Coventry, Gernika-Lumo, Ypern, Antwerpen.

5.
Cities which have rediscovered and now are reconnecting with historical impulses from the past, especially the remembrance of a prominent historical figure born in (or associated with) the city, and who was a great peace advocate. This is to do with the nature, and construction, of historical memory. Traditionally, war heroes are remembered, but slowly the notion of peace heroes is making headway, and cities are rediscovering their peace history and tradition.
Examples: Rotterdam (Erasmus), Atlanta (Martin Luther King, Jr.).

6.
Cities where important peace institutions once existed, or which once hosted important peace conferences, and which are rediscovering their peace past, and now want to remember this and build on it (similar to 5).
Example: Luzern.

7.
Cities where important peace research or peace training institutions have been created (and which have not been significantly affected by wars or conflict).
Examples: Stadtschlaining, Bradford.

8.
Cities which have joined one or more important international peace organisations, and which are playing a significant role in them (these cities have not been significantly affected by wars or conflict).
Example: Manchester.

9.
Cities of practical peacemaking, in ethnically diverse and polarised environments.
Examples: Le Chambon-sur-Lignon, Neve Shalom/Wahat Al-Salam, Philadelphia.

10.
Cities which have given their name to important peace documents of one kind or another, but which up to now have not (yet) taken any initiative to build on this and become self-consciously a peace city (even though their name is associated with peace).
Examples: Pugwash, Dartmouth, Göttingen, Talloires, Krefeld, Sevilla, Mohonk.

Please note that 'cities' occasionally also refers to villages, or more generally 'places'. Stadtschlaining (7), Neve-Shalom (9), or Pugwash (10) are villages.

With permission of:
Dr. Peter van den Dungen
University of Bradford

http://www.internationalcitiesofpeace.org/about/what-are-cities-of-peace/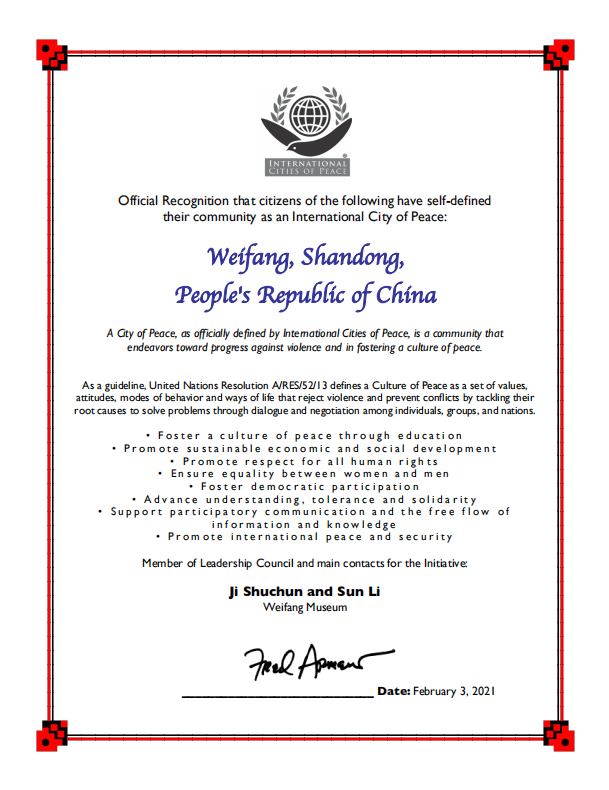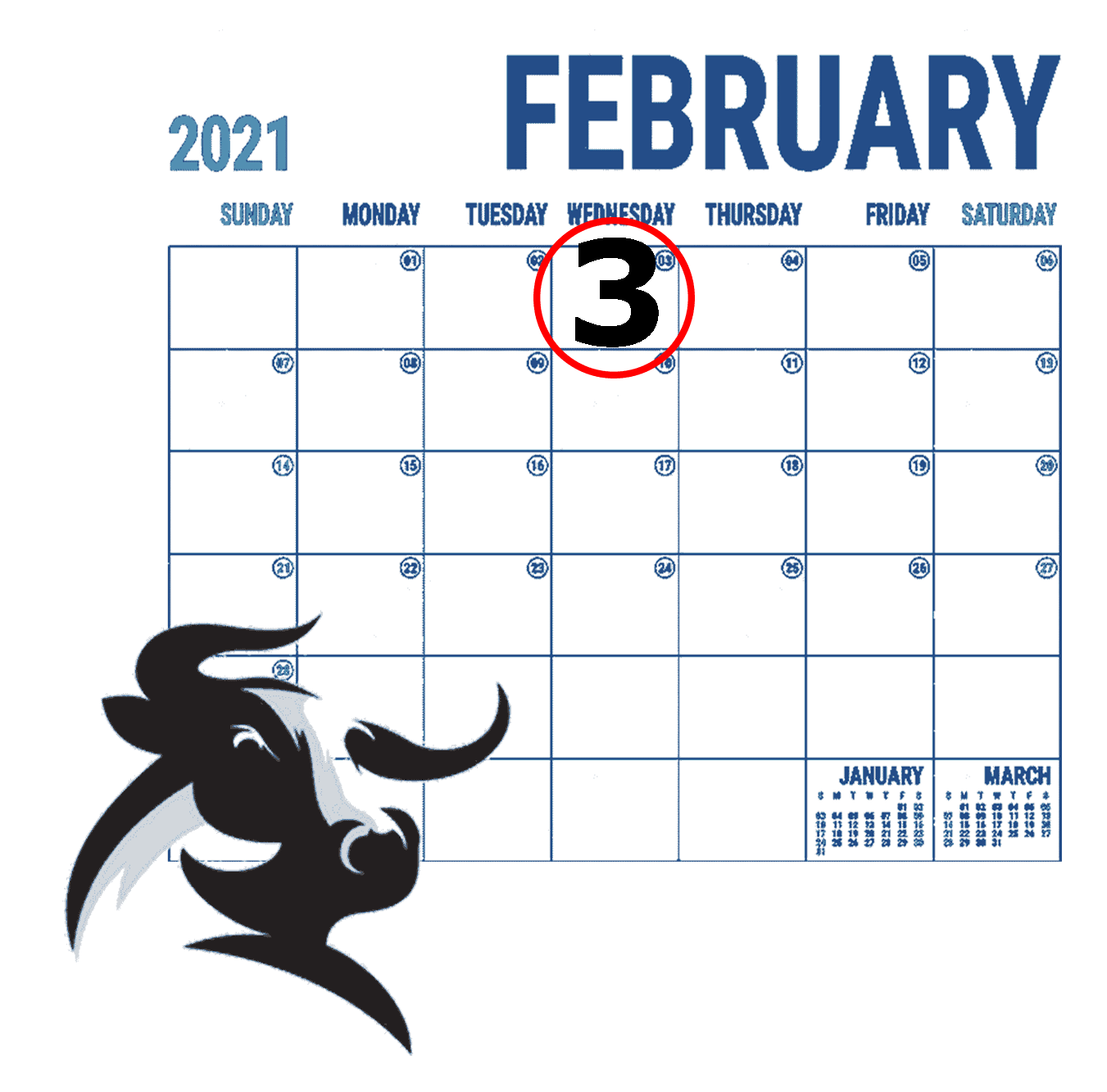 Inauguration :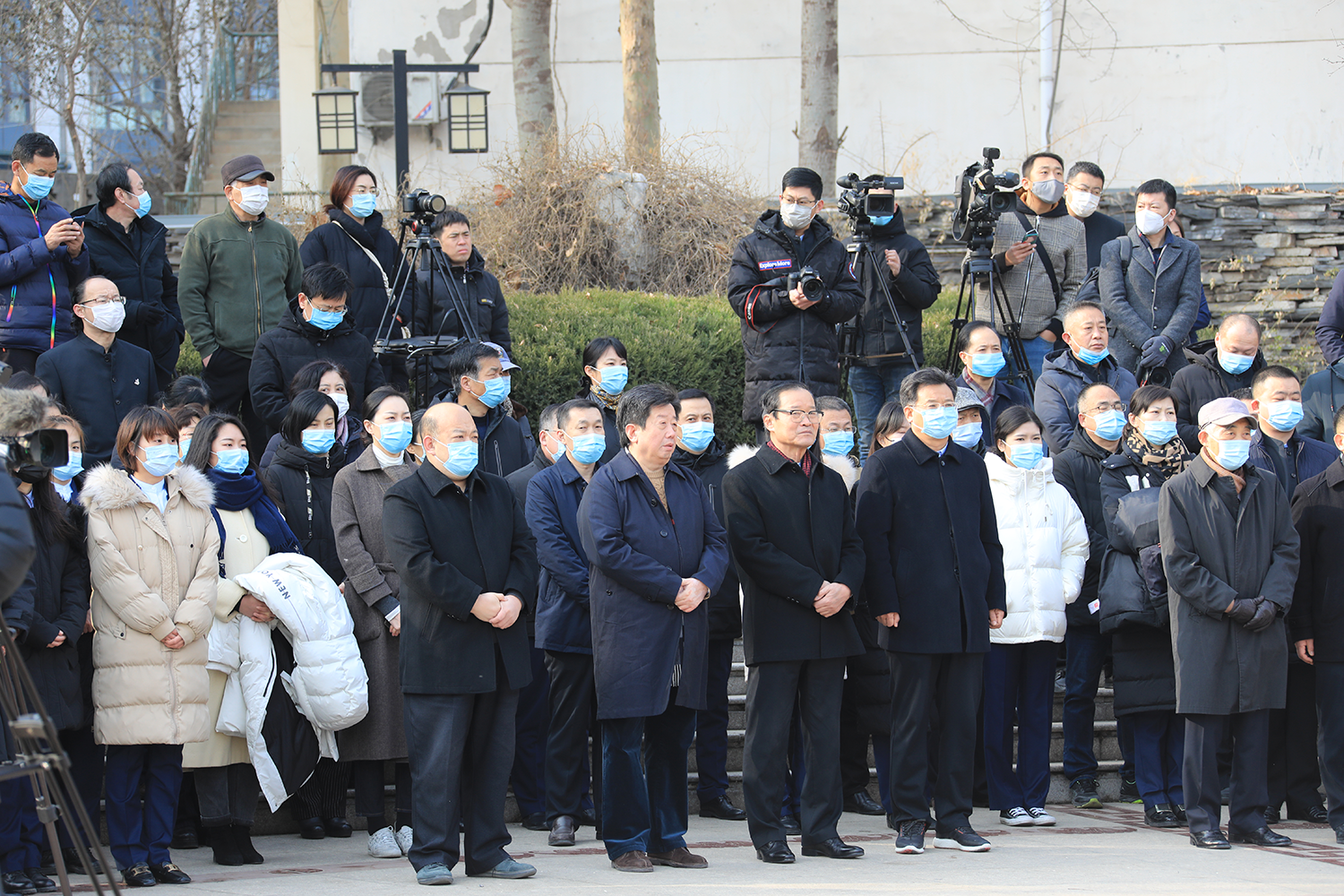 Activity site
Chu Baojie — Director of Publicity Department of Weifang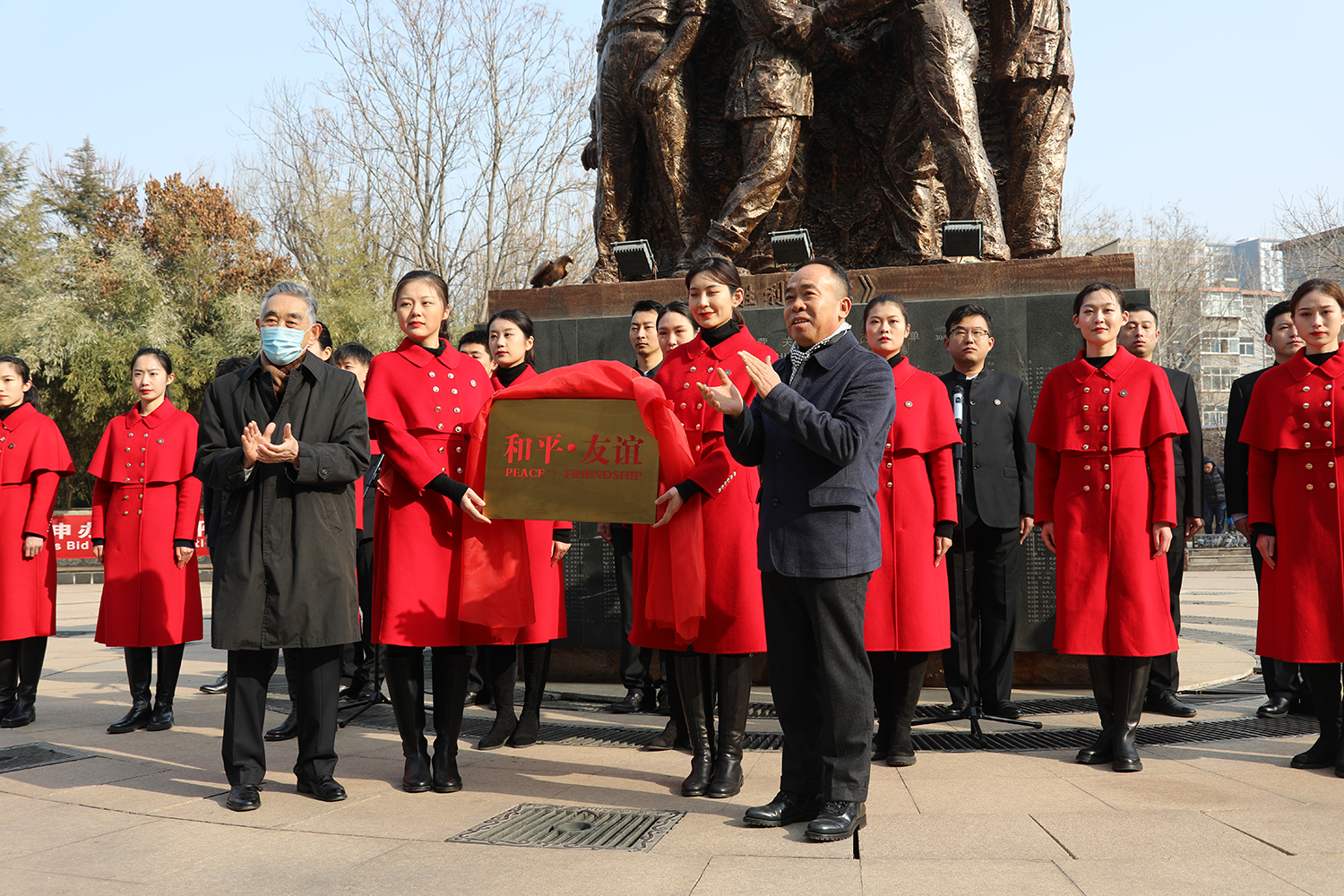 Oath Declaration of peace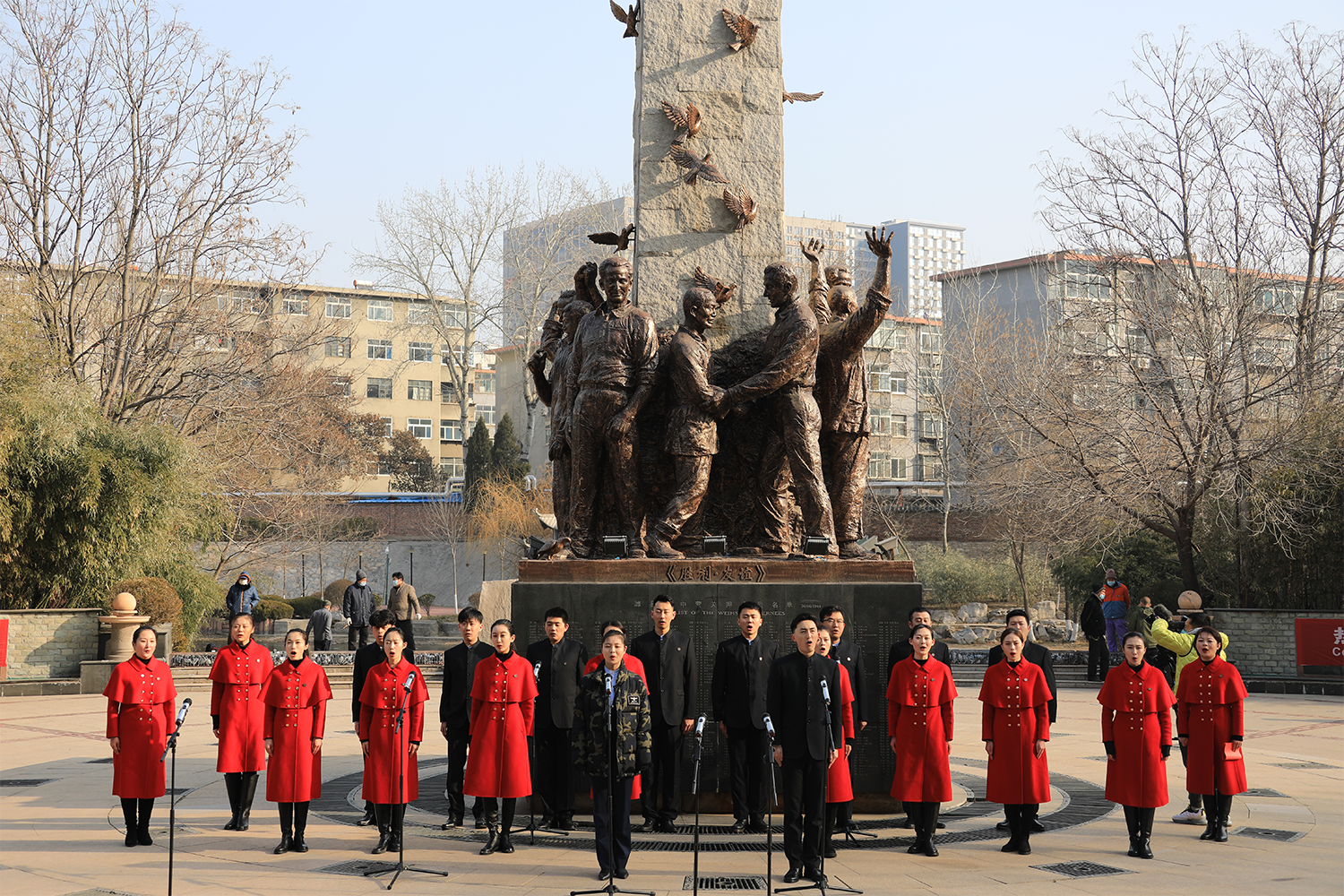 Peace and Friendship Monument unveiled