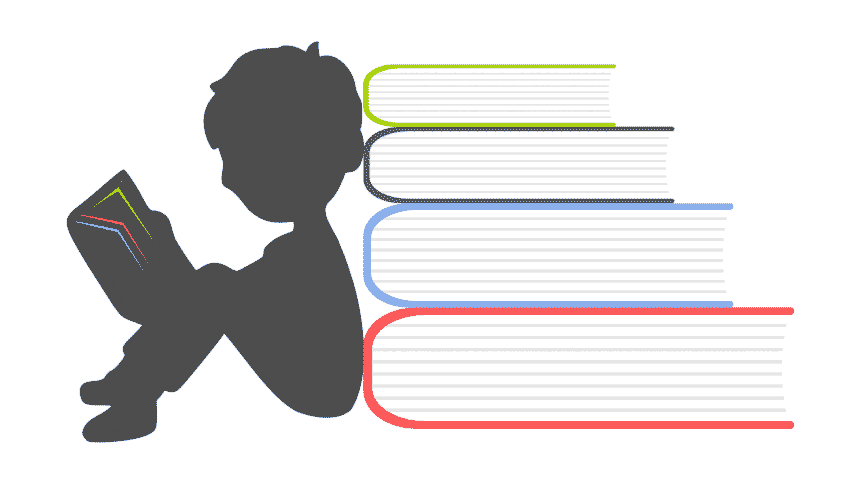 "Lilla's Feast"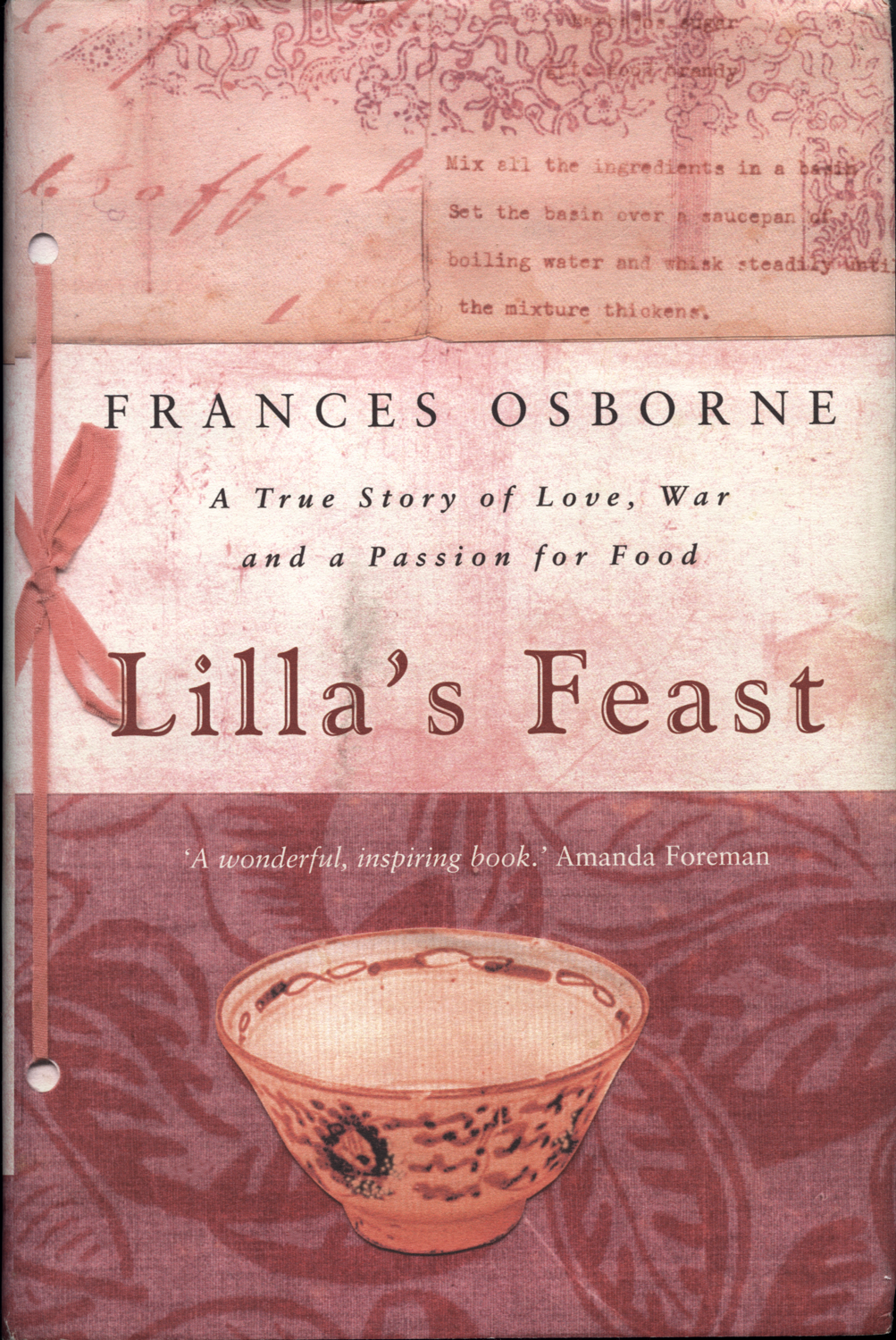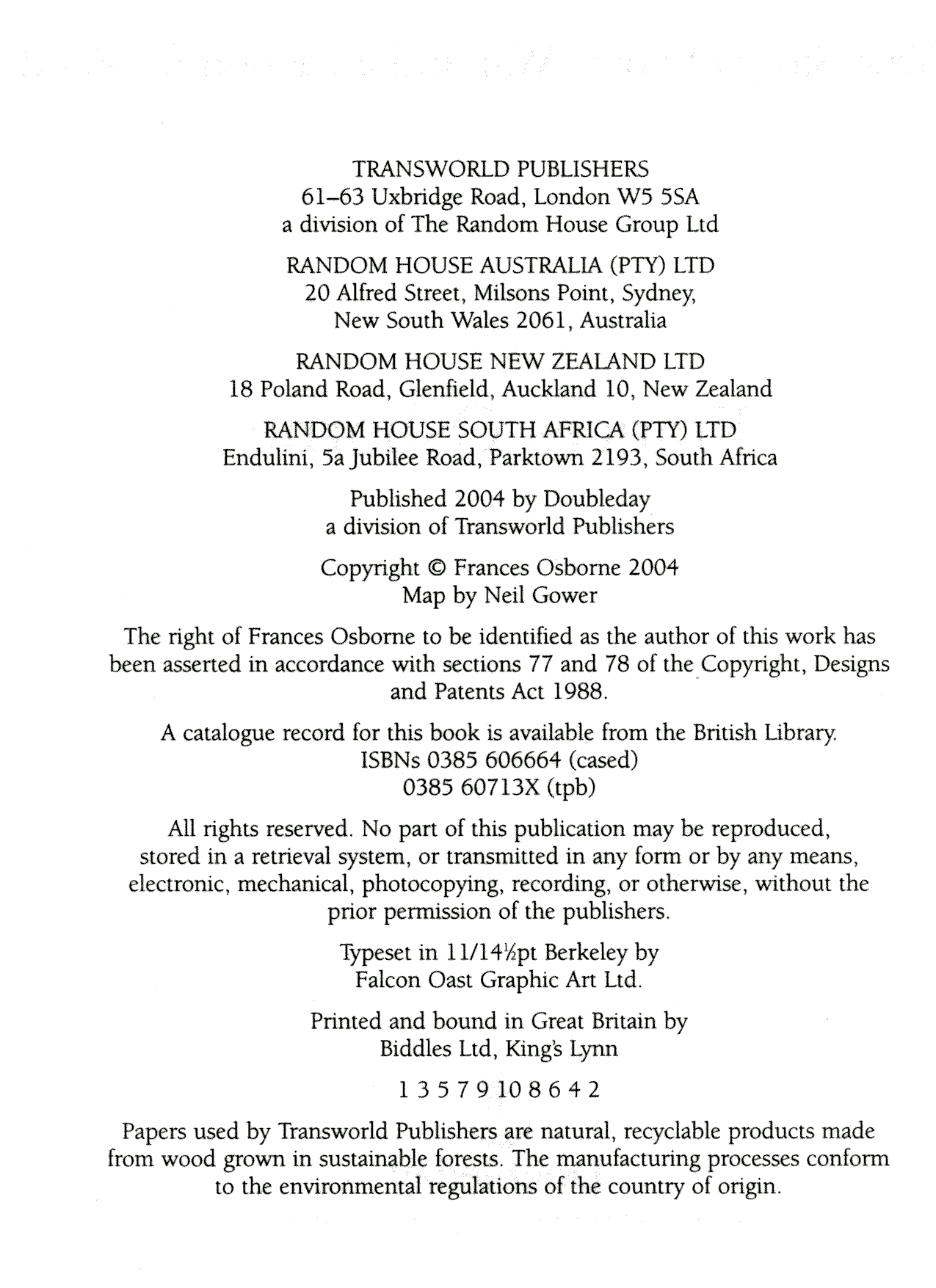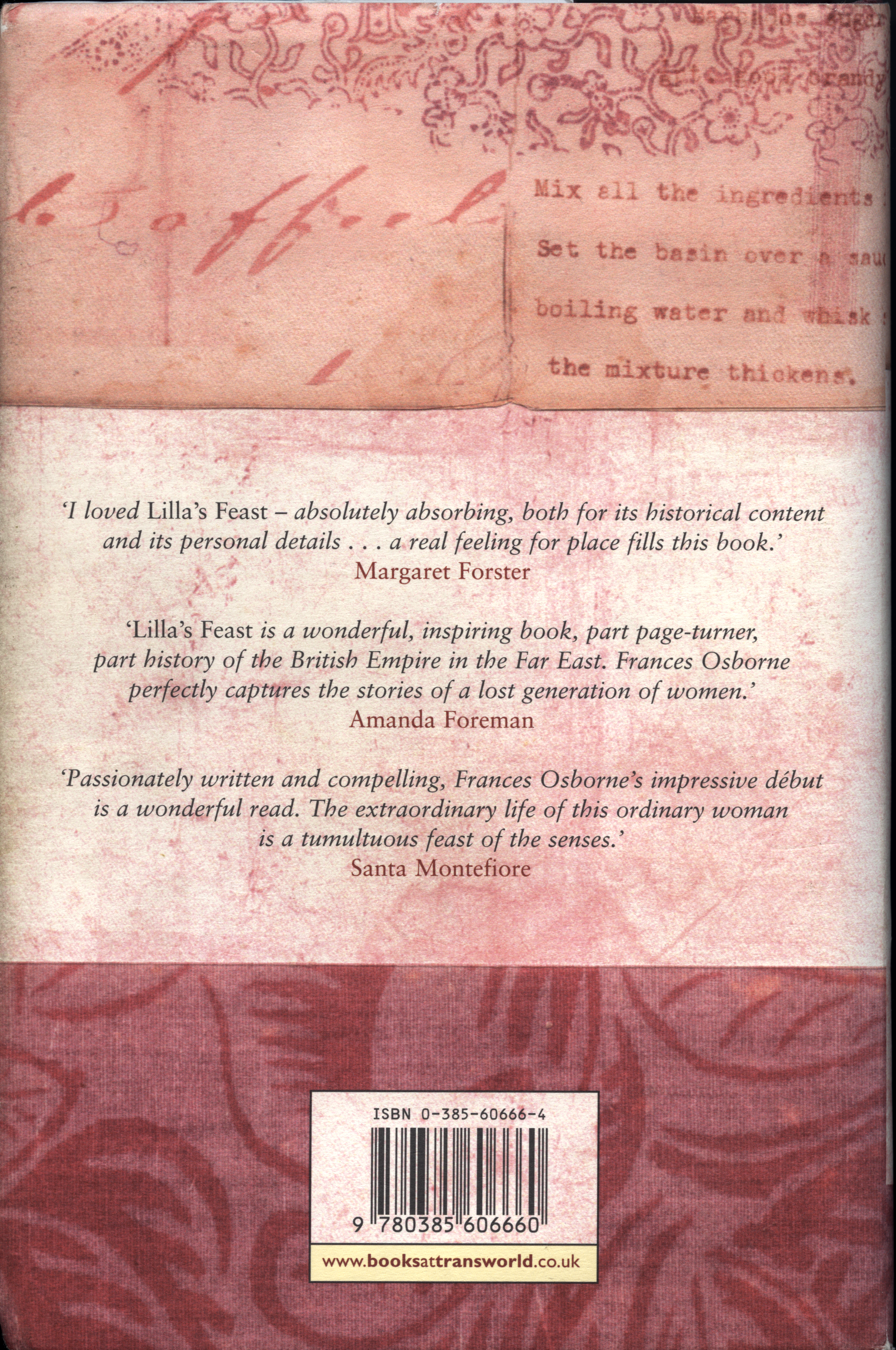 `I loved Lilla's Feast — absolutely absorbing, both for its historical content and its personal details ... a real feeling for place fills this book.'
Margaret Forster
`Lilla's Feast is a wonderful, inspiring book, part page-turner, part history of the British Empire in the Far East. Frances Osborne perfectly captures the stories of a lost generation of women.'
Amanda Foreman
`Passionately written and compelling, Frances Osborne's impressive début is a wonderful read. The extraordinary life of this ordinary woman is a tumultuous feast of the senses.'
Santa Montefiore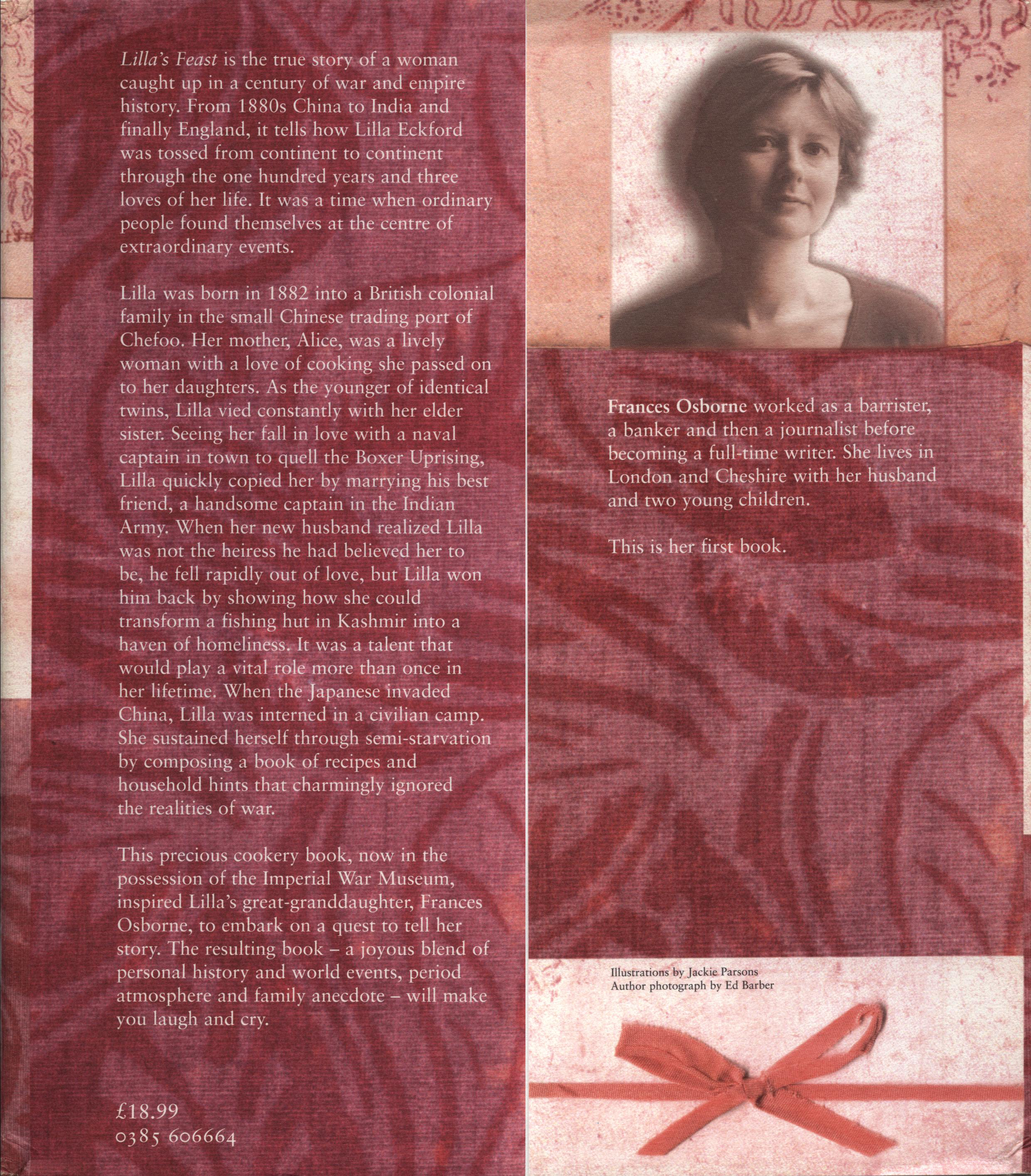 Lilla's Feast is the true story of a woman caught up in a century of war and empire history. From 1880s China to India and finally England, it tells how Lilla Eckford was tossed from continent to continent through the one hundred years and three loves of her life. It was a time when ordinary people found themselves at the centre of extraordinary events.

Lilla was born in 1882 into a British colonial family in the small Chinese trading port of Chefoo. Her mother, Alice, was a lively woman with a love of cooking she passed on to her daughters. As the younger of identical twins, Lilla vied constantly with her elder sister. Seeing her fall in love with a naval captain in town to quell the Boxer Uprising, Lilla quickly copied her by marrying his best friend, a handsome captain in the Indian Army. When her new husband realized Lilla was not the heiress he had believed her to be, he fell rapidly out of love, but LiHa won him back by showing how she could transform a fishing hut in Kashmir into a haven of homeliness. It was a talent that would play a vital role more than once in her lifetime. When the Japanese invaded China, LiIla was interned in a civilian camp. She sustained herself through semi-starvation by composing a book of recipes and household hints that charmingly ignored the realities of war.

This precious cookery book, now in the possession of the Imperial War Museum, inspired Lilla's great-granddaughter, Frances Osborne, to embark on a quest to tell her story. The resulting book — a joyous blend of personal history and world events, period atmosphere and family anecdote — will make you laugh and cry.

£18.99
0385 606664

Frances Osborne ...
... worked a, a barrister, - a banker and then a journalist before becoming a full-time writer.
She lives in London and Cheshire with her husband and two young children.

This is her first book.
CONTENTS
A Note on Chinese Names
viii


Map of China

ix



Prologue

1



PART I: LOVE

1 The Sweet Smell of Spice

11


2 Heavenly Twins

29


3 A Not Quite Prudent Marriage

46


4 Burn This

58


5 Poor Little Lilly

74


6 Melting Bitter Lemons

92



7 In the Lap of the Gods

108


8 The Tables Turn

127



PART II: PEACE

9 An Almost Husband

153


10 Going Home

178



PART III: WAR
PROLOGUE
IN THE IMPERIAL WAR MUSEUM in London there is a cookery book. It's there because it was written in a Japanese internment camp in China during the Second World War. When the book was given to the museum back in the 1970s, prime-time television was still packed with dramas about Japanese prison camps and the war, and the museum put it on display in the front hall. Thirty years later, it has slipped further back in the building, into one of the galleries about battles we're growing too young to remember.

There its old-fashioned Courier-type pages lie open, each chapter a rusting paper-clipped bundle of different coloured leaves. Most sheets are scraps of what was once white paper, but which has now yellowed with age. Some are torn from old account books. Some have `American Red Cross' stamped on the back in red. There is even the odd sheet of Basildon Blue. And many of the pages are typed on blank ricepaper receipts so thin that you can see right through them and marvel at how they survived the click and return of an old metal-bashing typewriter, let alone the war in which the recipes were written.

It's when you actually read the book that the real surprise comes. For it's not what you would expect from a wartime recipe book, all rations and digging for victory — or subsistence on rotting vegetables and donkey meat in a Japanese internment camp. It's quite the opposite. It's a book that's written as if the war wasn't there at all. As if everyone was back in their warm, safe homes with their families and friends, the larder full and the table heaving with fresh, just-cooked food. It gives advice on how to make good things last longer, how to live and eat to the full. The pages are jam-packed with recipes with old-fashioned names: cream puffs and popovers, butterscotch and blancmange, galantine of beef and anchovy toast, jugged hare and mulligatawny soup. There are dinner-party menus, children's menus, cocktails, ice creams, sweets. It's a book for making the best of times in the worst of times, a book which makes you believe that if you could fill your mind with a cream cake or anything delicious then you could transform the bitterest experience into something sweet and shut out the things that you needed to forget.

And that's what my great-grandmother, who wrote this book, believed.

My great-grandmother's name was Lilla. She'd been christened Lilian, but her stutter stopped her reaching the third syllable. So Lilla it was. I remember her vividly. She didn't just survive the camp, she lived for another forty years — until she was almost one hundred and one, and I was almost fourteen.

Even at the end of her life she was extraordinarily elegant, her long hair gently twisted up at the back of her head, her enviable legs always neatly crossed, and she only ever wore fitted black lace and diamonds that sparkled like those still-burning bright blue eyes. When we children scuttled through the door, this slim, birdlike creature would lean forward from where she perched on the edge of a sofa and whisper that it was 'w-w-wonderful' to see us as she could never understand what the grown-ups had to say. In ten seconds flat we had fallen under her spell. Jumping over the two bossy generations in between, our great-granny was our ally.

Lilla made the end of her life appear effortless. She trotted a mile to the shops and back each day. She had more descendants than she could count. Her bedroom was a through-the-looking-glass museum of furniture, pictures — even costumes — from every corner of the world in which she had lived: China, where she had been born; India, where she had been a wife; even England, where she'd ended up when she had nowhere left to go. She behaved as if she had sailed through life, and nothing could have been better.

She rarely mentioned the camp.

Still, there were a few snippets that didn't add up. A few phrases that slipped out in those grey hours after the funerals of each of her two children. There were her three `husbands' waiting in heaven, and her worry as to which one she should live with `up there', if any of them. There was an allusion to a `real father', who she said had shot himself when she was very young. There was her obsession with having something to leave her children and grandchildren. And there was the unheard-of child that, in a whispered confession, she said she had made herself miscarry.

At the time, these were mysteries that simply added to Lilla's exotic charm. It was only years later when I started to unravel them that I began to realize that they were, in Lilla's way, cries for help. Calls to understand that, beneath its polished surface, Lilla's life had been far from effortless. Clues not just to the pain of internment, which at least she had shared with others, but to another story, one that she had endured alone. A trail of dozens of surviving friends and relations — there's a tendency to longevity in our family — led me to the British Library. There I soon found myself staring at a long, thin box thickly packed with faded letters that had flown between Lilla, her first husband (my great-grandfather), his parents and his siblings, almost exactly one hundred years ago. As I pieced together the story that unfolded in them, I began to cry. Salty tears ran down my cheeks and dropped on to the thin paper of the letters, almost washing the words away. I wiped my face with a handful of tissues, smearing mascara around my eyes until I looked like I'd been in a fight. One of the librarians came over and asked if I was all right. Emotional outbursts must be rare in those dimly lit reading rooms on the Euston Road.

It took me two years to return. When I walked back into the Oriental Reading Room, changed, a mother now, and hoping to be able to judge the story in a more objective light, the librarians recognized me instantly. And, almost before I could ask, they had gone to retrieve that old ballot box whose contents had made me cry.

The letters I read made me understand how Lilla had found the will to write those recipes. If it hadn't been for what she had been through long before the camp, I'm not sure she would have had the determination, the imagination, to shut out the bad things by writing down not just the odd recipe but a complete cookery encyclopaedia that runs chapter by chapter from a course of cooking to soups, to fish, to game and on to hints on homemaking, and get right to the end.

My father was always the one who was going to write Lilla's — his grandmother's — story. I remember him standing on the first-floor landing of our house in London on the cold January morning after her funeral. He was examining a photograph of Lilla's terrifying-looking first husband, his grandfather, that he had just hung on the wall. What a book it would make, he said. `It would be a sizzler. My God, she had a life.' But my father has written several books since then, and none of them has been about Lilla. Eventually he handed me a pile of old photograph albums and a briefcase heavy with Lilla's papers and documents, and the mantle passed to me.

I went back to the Imperial War Museum for the first time since I was a child and read the recipe book under the reading-room dome. I went to the British Library to see if I could find out a little more about who did what when and unearthed that ballot box of letters, there because one of my great-great-uncles had become Foreign Secretary to the government of India and a poet. And as I started to turn over long-forgotten stones, more letters and newspaper clippings emerged from the bottom of dusty attic boxes, from the backs of once-flower-scented drawers. And more photographs appeared. Some from the vaults of university libraries. Others from the albums kept by Lilla's identical twin sister Ada, spirited over to me from New Zealand. And a few from the collections of each person I went to see.

Then there are the family stories. I tracked down a web of long-lost relations by plucking names from newspaper reports of weddings written a century ago and persuading directory enquiries to do national searches. I've discovered dozens of cousins I never realized I had. I flew from London to Vancouver for the weekend to stay with one of Lilla's nephews, and met a lady who had known Lilla in a Japanese prison camp. I found others scattered around the coast of England, in Suffolk, Cornwall and Kent. All of them have their stories to tell about Lilla. The things they overheard their parents discussing as children, and the secrets she confided to them during her long years in England at the end of her life. There are non-family stories, too. Thousands of documents record the minutiae of Lilla's home, the treaty ports of China — extraordinary enclaves of Western life that used to be dotted up and down its shores.

The way in which each record has been kept tells me almost as much as its contents. Like the sepia portraits of British families and children, dressed as for a London street a century ago but taken, as the fraying cardboard around them reveals, in Shanghai. And it is not just how memories have been preserved but why that has been revealing, too. There are those British Library letters, self-consciously gathered by Lilla's in-laws, the Howells, a family thoroughly sure of both its intellectual ability and its literary skills, as `they will very likely be interesting reading a hundred years hence if the world moves on as fast as it has done'. Several key letters and files seem to have escaped the fire or waste-paper basket only because they make some reference to money, and were kept by people who had lost a lot of it, and hoped that one day some might come back. And there are the letters and notes that have not survived — destroyed because the reader wanted to keep the correspondence tantalizingly private, or because the writer assumed that nobody would be interested. As one of my many great-great-aunts writes of her diary, `as I am not very likely to become famous and have a biographer, I have burnt it'.

Oh, how I wish she had not.

Even the stories I have been told face to face vary in nature according to the teller, and what they have found interesting enough for their memories to retain. Detailed accounts of great journeys, moments of battle, business deals and mouth-watering meals from my male relations. The intricacies of who said what to whom when, loves, heartbreaks, homes, clothes, possessions and eating habits from the women. Some old and lonely by the time I found them, their minds still fixed on a glorious past.

However, it is far from new to declare that all `facts' are inextricable from the person and medium used to record them. As Queen Victoria wrote, `I had long learnt that history was not an account of what actually happened, but what people thought had happened.' And every day, in courtrooms all over the world, a row of witnesses will stand up and give widely differing accounts of an identical incident. Some may be lying, but the majority will believe what they are saying. And where in all this does `the truth' lie? With the judge and jury, who will rely on what they think they see and hear, and their view of human nature, to form opinions that will be held up for posterity as fact.

I haven't attributed every single fact given to me to the particular source that provided it. To do so would make the text unreadable. In many cases I have been given so many accounts of a single episode — each providing a different camera angle on Lilla's life — that the only intelligible way of reproducing them has been to edit them into a single movie. However, where it adds to the understanding of the story, and is not self-evident, I explain how details came to light.

But by far the hardest question surrounds the gaps in the story. Where, perhaps playing the role of a lone juryman, I have had to deduce how it must have felt to Lilla to be in a certain place, at a certain time. I read her recipe book again and again, my mind tasting the food she loved to cook. I went to China and marvelled at the beauty of the bay in Chefoo, where she was born. My sister and I ate cakes in the grand hotels of Shanghai, as Lilla and her sister once did. I put on her shoes and walked through her life with her. Where Lilla smiled, I smiled, where she cried, I cried, and where she made decisions that today seem strange, I began to understand what she had done. After all, I knew Lilla. The blood of her stories runs in my veins. Standing there with her, in other times, in other worlds, I closed my eyes and could almost see and hear what must have happened to her. Could imagine what she might have thought and felt.

Lilla's story is not large-scale history. She was not a grand or famous person orchestrating world events. She was in many ways very ordinary, a typical woman of her time. And this is a story of what large-scale history does to the small-scale people caught up in its events. There were a lot of events. Two world wars, a couple of civil wars, and a complete change in the choices open to women in the Western world. When Lilla was born, she was brought up to be a wife and nothing else. But she ended up working and starting her own business. And I hope that my children, who never had a chance to meet Lilla and to whom this book is dedicated, will take its most enduring lesson to heart. That is, however bad things may be, somewhere inside all of us is the strength of spirit to overcome them.

Never give up hope.
London, January 2004
#