MED MOR
by An Wei Jensen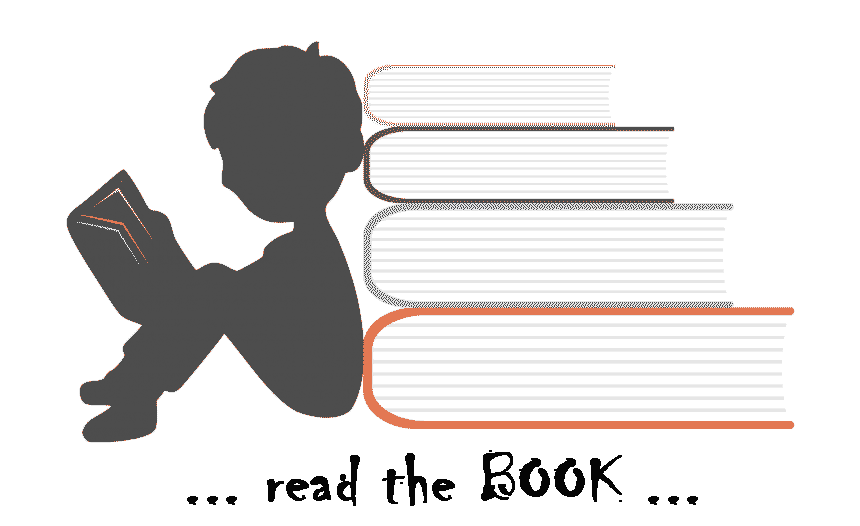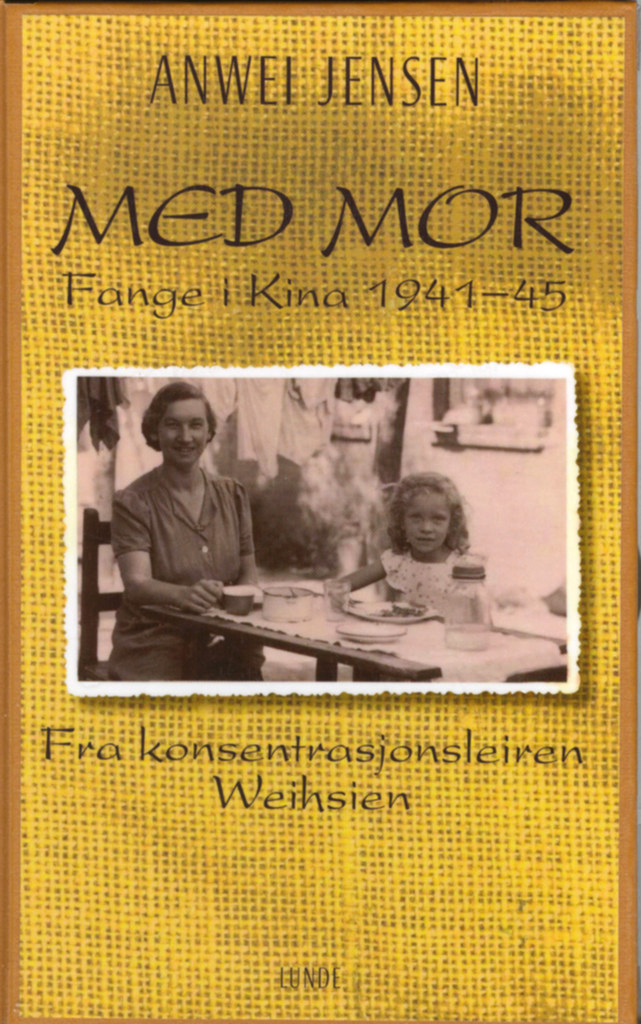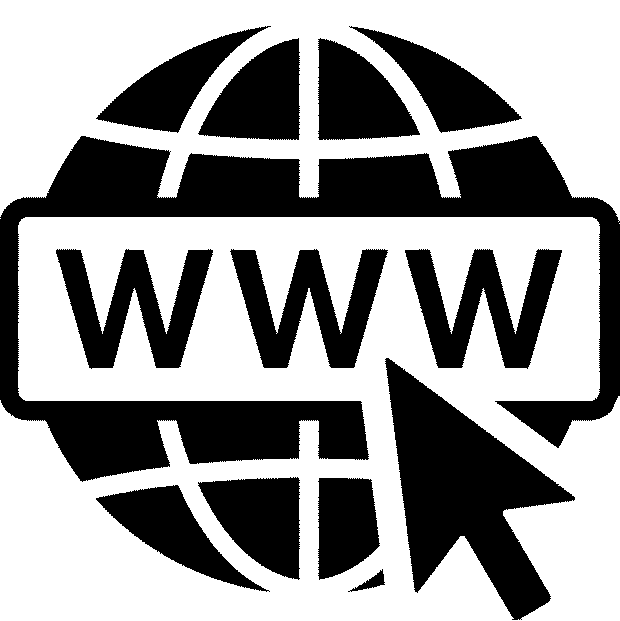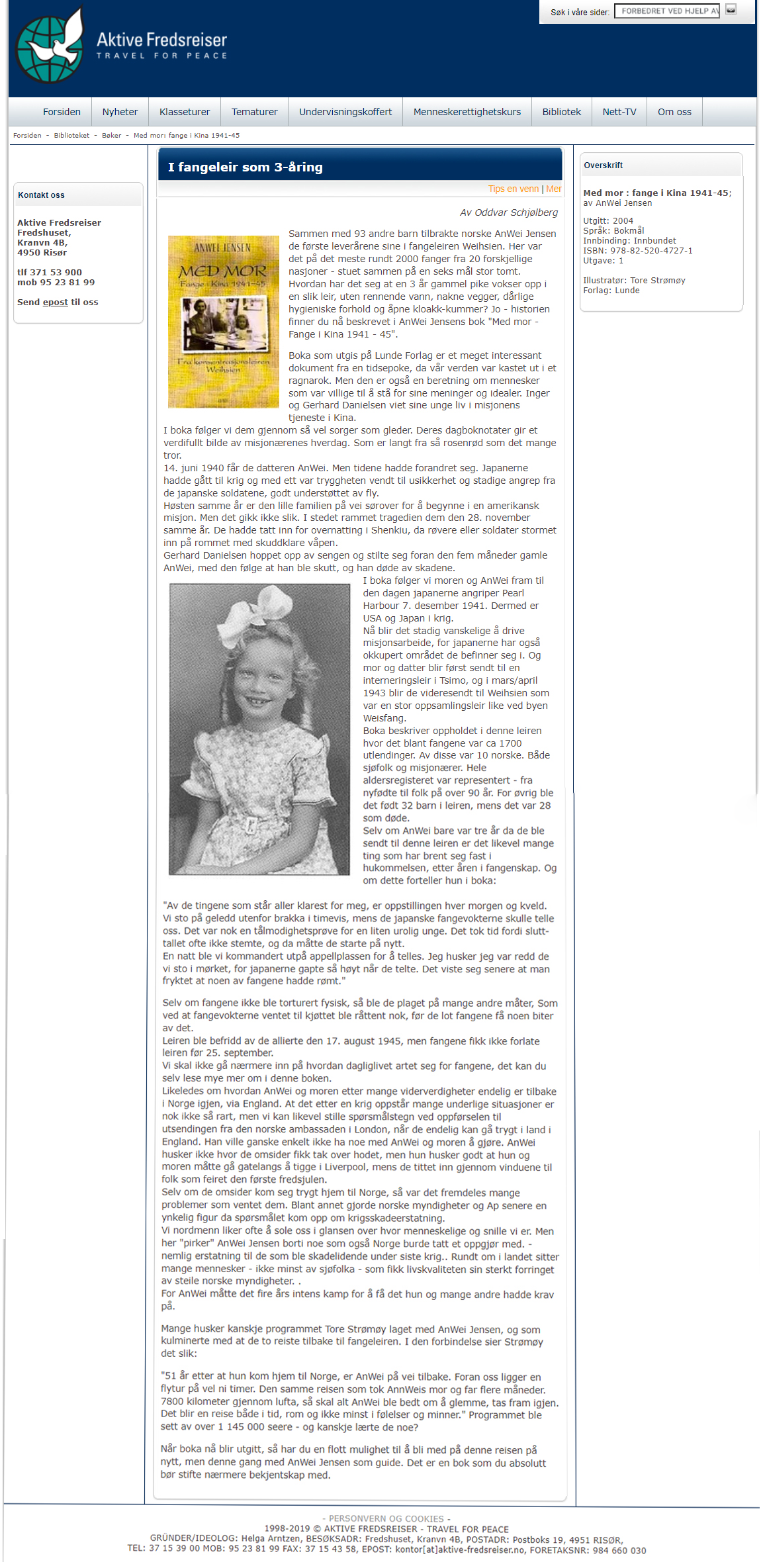 Together with 93 other children, Norwegian AnWei Jensen spent her early years in the Weihsien prison camp. There were at most around 2,000 prisoners from 20 different nations - crammed together on a six-acre site. How is it that a 3-year-old girl grows up in such a camp, without running water, bare walls, poor hygienic conditions and open sewage basins? Yes - you can now find the story described in AnWei Jensen's book "Med mor - Fange i Kina 1941 - 45".

The book published by Lunde Forlag is a very interesting document from an era when our world was thrown into a ragnarok. But it is also an account about people who were willing to stand up for their opinions and ideals. Inger and Gerhard Danielsen devoted their young lives to the mission's service in China.




In the book, we follow them through sorrows as well as joys. Their diary notes provide a valuable picture of the missionaries' everyday life. Which is far from as rosy as many people think.

On 14 June 1940, their daughter AnWei is born. But times had changed. The Japanese had gone to war and suddenly security had turned into uncertainty and constant attacks from the Japanese soldiers, as well as aircraft raids ― machine-gunning and bombing. In the autumn of the same year, the small family is on its way south to start an American mission. But it didn't work out that way. Instead, tragedy struck them on November 28 of the same year. They had tucked in for the night in Shenkiu, when robbers or soldiers burst into the room with guns ready to fire.

Gerhard Danielsen jumped out of bed and stood in front of the five-month-old AnWei, with the result that he was shot, and shortly died from his injuries.

In the book, we follow the mother and AnWei until the day the Japanese attack Pearl Harbor on December 7, 1941. Thus, the USA and Japan were at war.

Because of the Japanese occupation in their area, missionary work became increasingly difficult if not impossible. The mother and the daughter are first sent to an internment camp in Tsimo, ― and in March/April 1943 they are transferred to Weihsien, which was a large concentration camp in the neighborhood of what is now the city of Weifang.

The book describes the sojourn in this camp where approximatively 1,700 foreigners were prisoners of the Japanese. Of these, 10 were Norwegian. Both sailors and missionaries. The entire age register was represented - from newborns to people over 90 years old.

Incidentally, 32 children were born in the camp, while 28 individuals of all ages died.

Even though AnWei was only three years old when they were sent to this camp, there are still many things she remembers though other incidents have vanished from her memory. And she writes about this in the book:

"Of the things that stand out most clearly to me is the line-up every morning and evening. We stood in line outside the barracks for hours, while the Japanese prison guards had to count us. It was probably a test of patience for a little restless youngster. It took time because the final count often didn't match, and then they had to start all over again.

One night we were ordered out for an exceptional roll-call to be counted once more. I remember being afraid while standing in the dark, because the Japanese gaped so loudly when they counted. It later emerged that it was feared that some of the prisoners had escaped." Although the prisoners were not physically tortured, they were tormented in many other ways, such as the jailers waiting until the meat was rotten enough before allowing the prisoners to have a few bites of it.

The camp was liberated by the Allies on 17 August 1945, but the prisoners were not allowed to leave the camp until 25 September. We will not go into more detail about how daily life was like for the prisoners, you can read much more about that yourself in this book.

Likewise, about how AnWei and her mother, after many diversions, came finally back in Norway again, via England. That many strange situations arose after the war is probably not so strange, but we can still question the behavior of the envoy from the Norwegian embassy in London, when they finally disembarked safely in England. He simply wanted nothing to do with AnWei and her mother. AnWei doesn't remember where they finally got a roof over their heads, but she remembers well that she and her mother had to go along the streets begging in Liverpool, while they looked in through the windows of people celebrating the first Christmas of Peace.

Although they finally got home safely to Norway, there were still many problems awaiting them. Among other things, the Norwegian authorities later made a pitiful figure when the question came up about war damage compensation.

We Norwegians often like to boast about how human and kind we are. But here AnWei Jensen "pokes" something that Norway should also come to terms with.
— namely compensation for those who were injured during the last war. Around the country there are many people whose quality of life was greatly reduced by the rigid Norwegian authorities (…)

For AnWei, it took four years of intense struggle to get what she and many others were entitled to.

Many may remember the program Tore Strømøy made with AnWei Jensen, which culminated in the two traveling back to the prison camp. In this connection, Strømøy puts it this way:

Your browser does not support the video tag.
6. oktober 2015 kl. 05:55Tillatt for alle1 t 9 min
https://tv.nrk.no/serie/tore-paa-sporet/2006/PRTY12003806/avspiller

"51 years after she came home to Norway, AnWei is on her way back. Ahead of us is a nine-hour flight. The same journey that took AnnWei's mother and father several months. 7,800 kilometers [sic] by sea, everything AnWei was asked to do about forgetting, is brought up again. It will be a journey both in time, space and not least in feelings and memories." The program was watched by over 1,145,000 viewers - and maybe they learned something?

When the book is now published, you have a great opportunity to join this journey again, but this time with AnWei Jensen as your guide. It is a book that you should definitely get to know.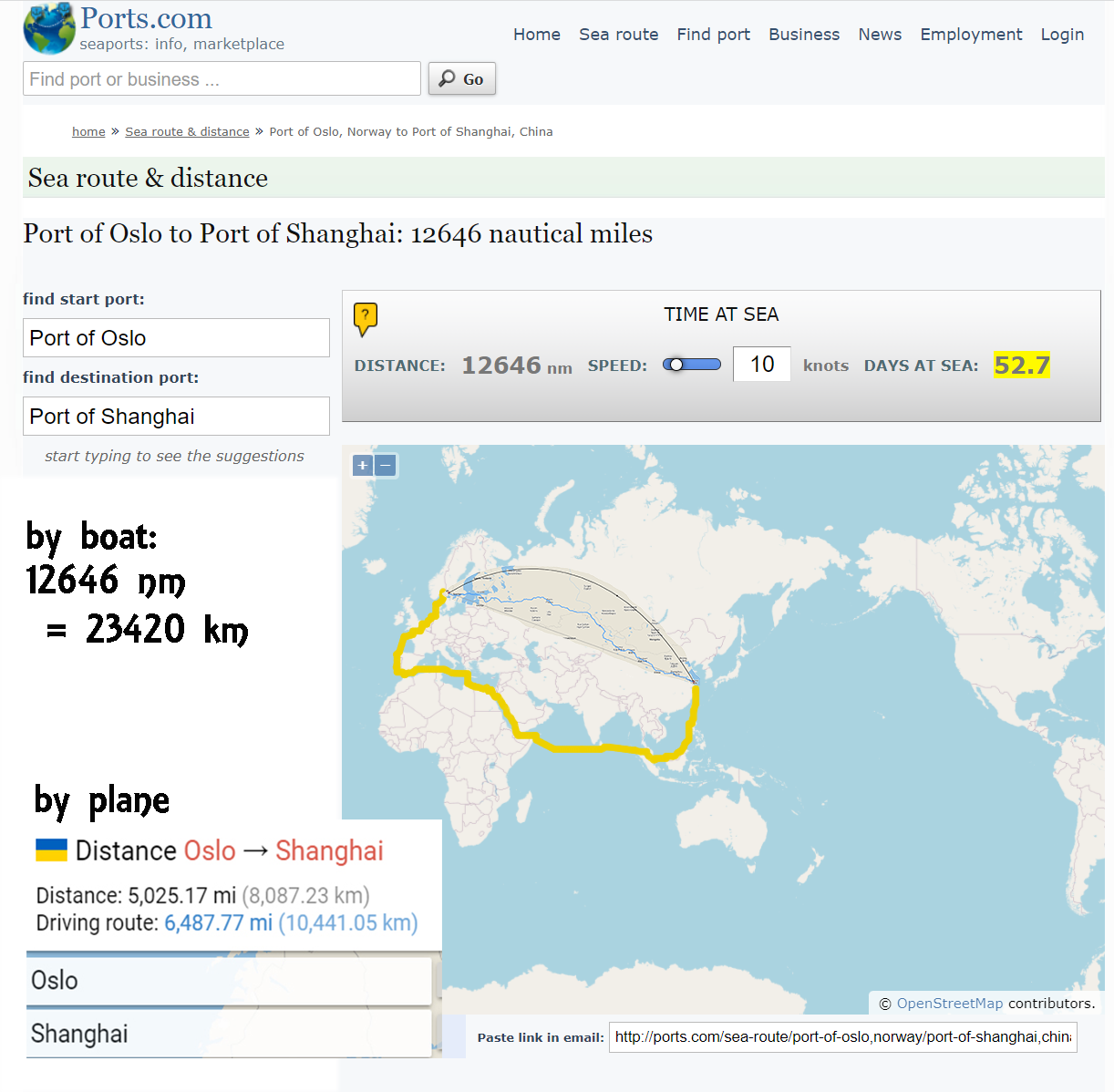 N.D.L.R. ... in those days i.e. in the 1930ies voyages Chinese bound were usually made by sea via the Suez Canal. Aeroplane travel only became customary in the 1950ies with stops for refuelling. The today orthodromic flights are detailed in the picture.

#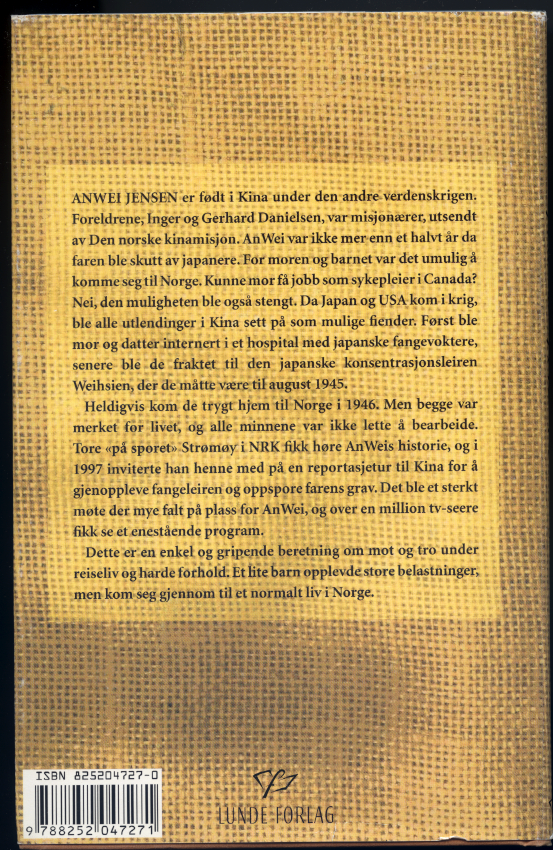 ANWEI JENSEN was born in China during the Second World War.

Her parents, Inger and Gerhard Danielsen, were missionaries, sent out by the Norwegian Chinese Mission. AnWei was not more than half a year old when her father was shot by the Japanese. For the mother and child, it was impossible to return to Norway. Could Mother get a job as a nurse in Canada?

No, that option was also closed. When Japan and the United States went to war, all foreigners in China were seen as potential enemies. At first, the mother and the daughter were interned in a hospital with Japanese prison guards, and later, they were transported to the Japanese concentration camp Weihsien, where they had to stay until August 1945.

Fortunately, they came home safely to Norway in 1946. But both were marked for life, and all the memories were not easy to process. Tore "on the track" Strømøy in NRK heard AnWei's story, and in 1997, he invited her on a reporting trip to China to visit the prison camp and track down her father's grave. It was a strong meeting where a lot fell into place for AnWei, and over a million TV viewers who got to see an outstanding show.

This is a simple and poignant narrative of courage and faith remembering harsh conditions. A small child experienced great strain, but got through to a normal life in Norway.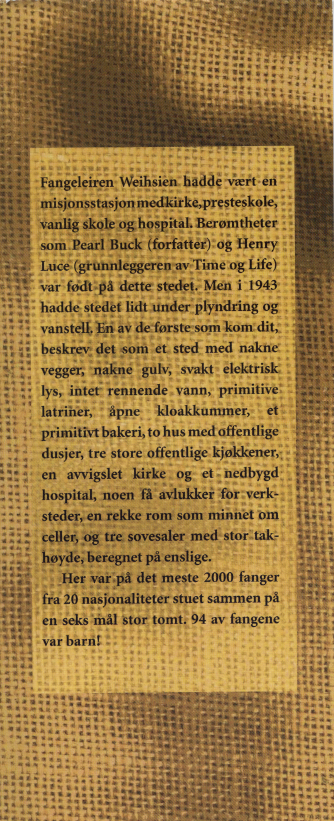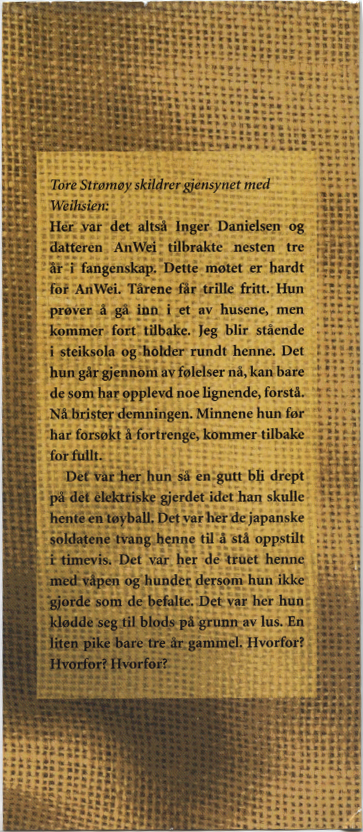 Tore Strømøy describes the reunion about Weihsien:

A reunion with Inger Danielsen and her daughter AnWei who, both, spent nearly three years in captivity. This was a tough experience for AnWei. The tears were allowed to flow freely. She tried to enter into one of the houses there.
I waited outside, standing in the roasting sun staying by her side while looking around. She was going though her emotions and, now, I understand that only people of her kind can sense similar feelings.

Now the dam is bursting. All the old memories she wanted to forget came back again to the fullest.

It was here that she saw a boy being killed on the electric fence as he was attempting to pick up a cloth ball. It was here that the Japanese soldiers forced her to stand for hours. This is where they threatened her with guns and dogs if she didn't do as they commanded. This is where she scratched herself to the point of blood due to lice.

One little girl of only three years old.

Why? Why? Why?
____________________________________________

The Weihsien prison camp had been a mission compound with a church, a priest's school, a normal school and hospital. Celebrities such as Pearl Buck (author) and Henry Luce (the founder of Time and Life) were born in this place. But in 1943, the place had suffered from looting and disfigurement. One of the first to get there, described it as a place of naked walls, bare floors, weak electric lighting, no running water, primitive latrines, open cesspools, etc. (…) a primitive bakery, two houses with public showers, three large public kitchens, a deconsecrated church and a derelict hospital, a few cubicles for work places, a number of rooms that reminded of cells, and three dormitories with large high ceilings intended for singles.

There were at most 2,000 prisoners here from 20 different nationalities crammed together on a six-acre plot. Ninety-four of the prisoners were children!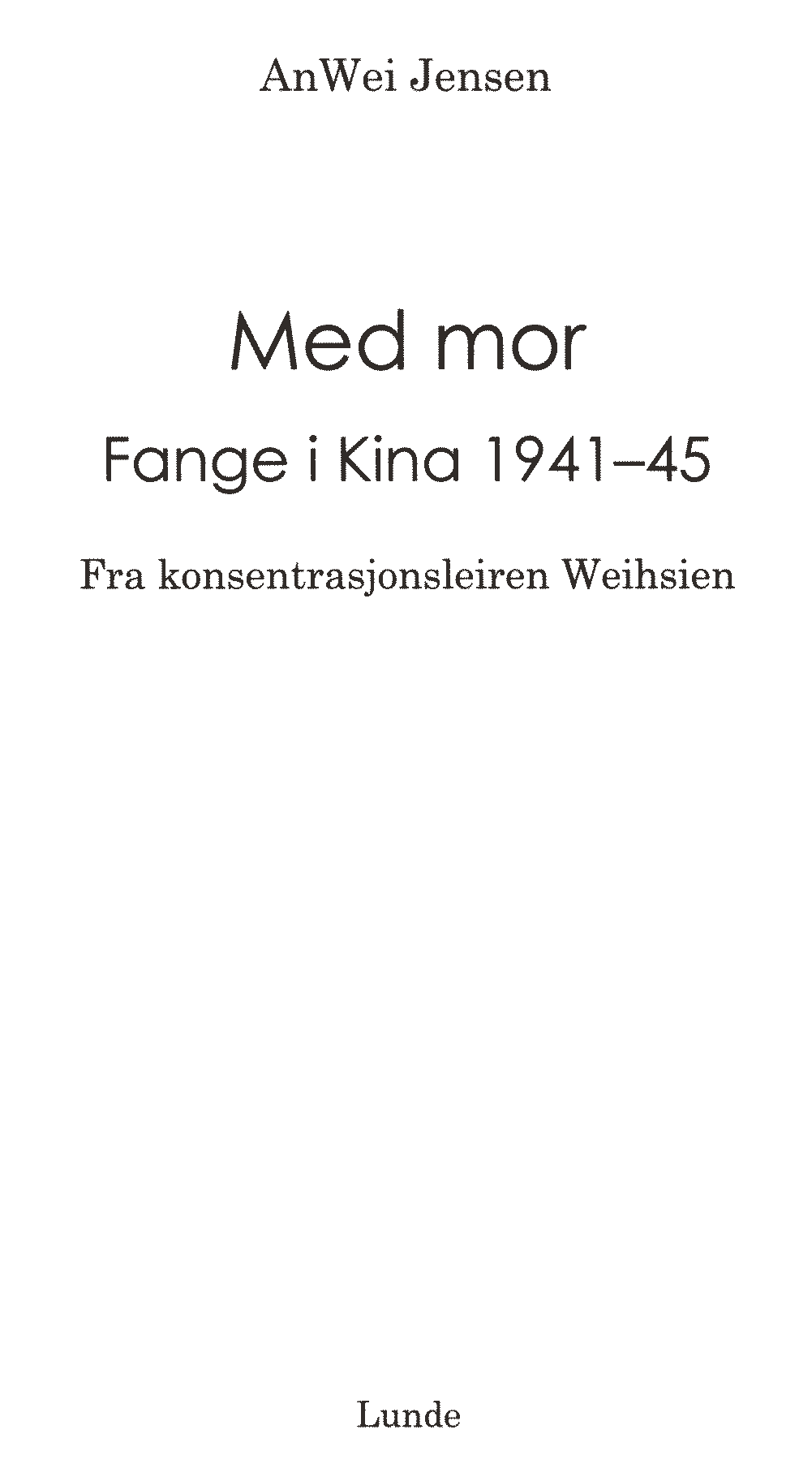 An Wei Jensen

With mother


Prisoner in China 1941-45
From the Weihsien concentration camp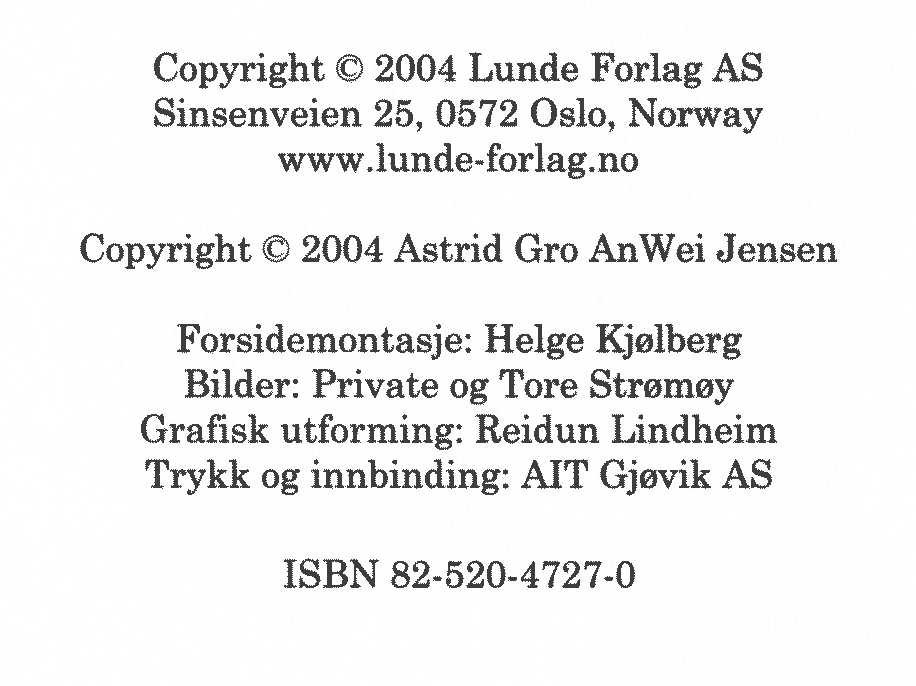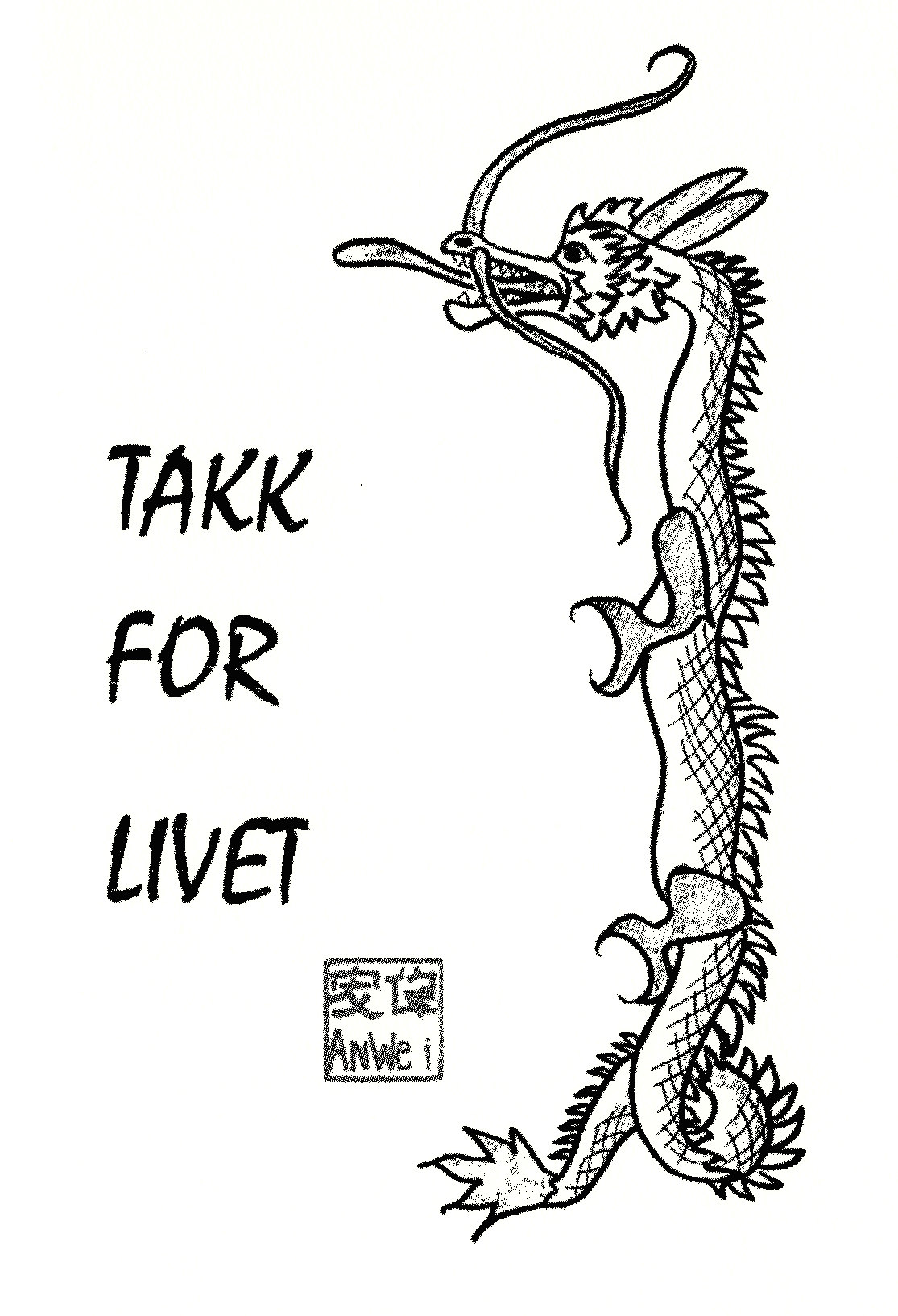 thank you for life
Dedication
To my all-sacrificing father, who gave his life for me.
To my beautiful mother, who gave me life.
To my loving husband and my wonderful children, children-in-law and grandchildren, you who have made my life worth living.
Thank you for your support and backing during the writing of this book.
An extra thank you to my daughter for practical computer help.
An Wei